Where to stay in Florianópolis, Brazil: best beaches and accommodation tips
Florianópolis, also known as Floripa, is the capital of Santa Catarina, Brazil, and the third largest island in the country. Its beautiful beaches and other attractions are located in a broad geographical area, so it is very important to know where to stay in Florianópolis to avoid long drives and wasting travel time stuck in traffic.
I lived on the island for three years and got to know it really well. In this article, I'll explain what are the best neighborhoods in Florianópolis for a tourist to stay in and recommend some of the best hotels, hostels and inns in each of those areas.
You might also like to read:

Where to stay in Búzios, Brazil
What to do in Salvador de Bahia
Trip to the Brazilian Amazon
Best areas to stay in Florianópolis, Brazil
The island is divided into four regions:  central (downtown Florianópolis), northern, southern and eastern. Each of these regions has its own bus terminal, markets, pharmacies, bars, restaurants, and of course, many hotels, hostels and inns.  It is almost as if they are smaller cities within the island.
Choosing where to stay in Florianópolis depends very much on your purpose. For example, if you are looking for accommodation with your family, I suggest staying in the north of the island, where the sea is calm.
If you're traveling with friends, it might be interesting to stay in the east of the island, where there are several fun events both during the day and at night.
Would you like more details to help you choose the accommodation that best meets your needs? Stay with me and I will give you good tips on accommodation in Florianópolis.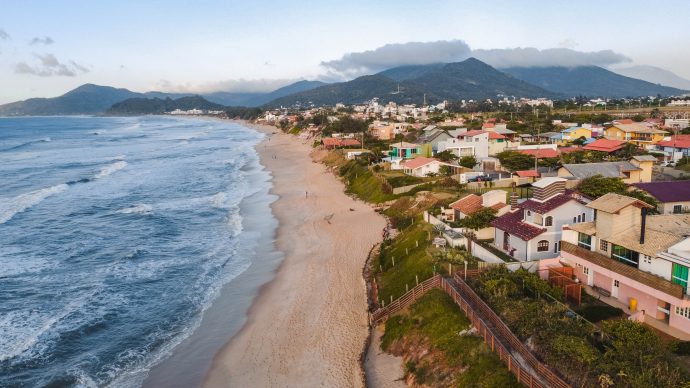 Where to stay in downtown Florianópolis
Downtown Florianópolis is very charming, and I know what I'm saying because I lived on the island for three years!
Staying downtown has several advantages, such as being able to walk to the pier and watch the sunset every day, enjoy the atmosphere of the public market, visit the Cathedral of Nossa Senhora dos Desterros and stroll around Parque da Luz and the Hercílio Luz Bridge (on Sundays it is exclusively for pedestrians). You will also be near the bars on Rua Victor Meirelles, which is a great area.
However, the city center is approximately 25 km away from the beaches on the north side of Florianópolis and about 20 km away from the beaches on the south and east sides of the island. Therefore, if you are looking to stay near the beach, scroll down for tips on the other areas of the city.
So, where to stay in downtown Florianópolis? If you want to save money on your stay, go for a hostel. You will find several options downtown, such as the Innbox Hostel, which is very well located, close to the bus station, the cathedral, shops and bars. Apart from the usual shared rooms, this hostel has private suites.
Another option is the H70-Hostel, which is located in another part of downtown Florianópolis, closer to the Beiramar Shopping. The H70 features cabin-style beds, inspired by trains and airports. The cabins have individual power outlets, reading light and curtain to increase guests' privacy and improve the quality of their sleep.
The Floripa Hostel, on the other hand, is located in a more residential area of downtown Florianópolis, less than 10 minutes from the north seaside pier.
The Esquina 8 Suítes Confort & Hostel is my last suggestion for downtown, located on the most popular street there: Rua Hercílio Luz. There, all rooms are private and it can fit groups of up to 10 people in the same room.
There are also many good hotels in downtown Florianópolis, such as the Majestic Palace Hotel, which has an incredible view of the seafront, luxurious rooms (almost all with sea views), an infinity edge pool and even a nightclub on the rooftop.
Novotel Florianópolis and Blue Tree Premium Florianópolis are also great options downtown, both close to the Beiramar Shopping center. As they are chain hotels, they have a high quality standard.
And speaking of quality, the LK Design Hotel is a luxury hotel designed to provide guests with an unforgettable experience. It has a gym overlooking the sea, a rooftop with swimming pool, a restaurant with renowned chefs and premium suites with a Jacuzzi for those who want to have the full experience.
For more options, click here to check all hotels, hostels and inns in downtown Florianópolis at Booking.com (the accommodation reservation site I always use).
Where to stay on the northern side of the island
If you're looking to stay near the beach, Praia da Daniela, Praia do Forte and Praia de Jurerê are great options for a stay with the family. The sea is usually calm there, especially at Daniela and Forte beaches, whose waters are nice and warm, and so calm they seem like lagoons.
Jurerê beach is usually the site of major events in Florianópolis. It is also very popular for its beach clubs, which bring national and international concerts and famous DJs.
Canasvieiras beach and Ingleses beach provide great tourism structures. They have all kinds of shops along their boardwalks, so it is easy to buy clothes, handicrafts and souvenirs, in addition to several gastronomic options.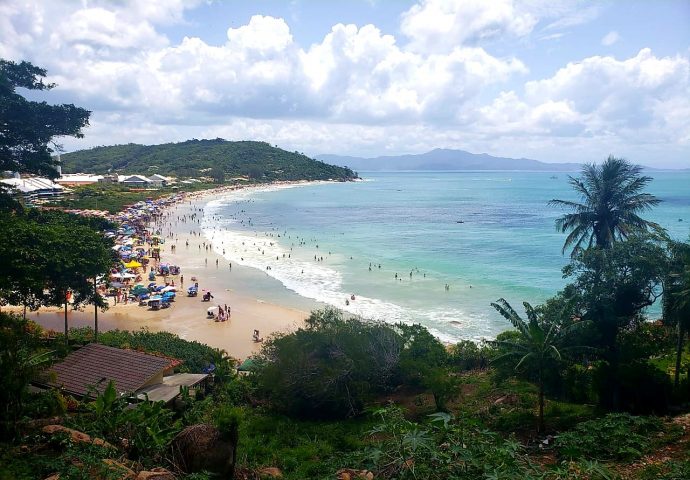 Praia das Canasvieiras
The Palace Praia Hotel in Canasvieiras has a privileged panoramic view of the beach, as well as a jacuzzi on the terrace and a swimming pool at the beach front. Another great option facing the sea in Canasvieiras, which is a little more affordable, is the inn Pousada Mon Chateau.
Is Canasvieiras the beach for you? Click here and check out more hotels and inns available there.
Praia dos Ingleses
At Praia dos Ingleses, the Palm Beach Apart Hotel is very well rated, with its tables and chairs laid out on the sand and very close to the shops and restaurants of Ingleses Beach. Certainly one of the best places to stay in Florianópolis.
The Ingleses Park Hotel is also located on the beachfront and has a nice structure for the whole family, such as a playground, a games room with a pool table, ping-pong table and table football, as well as an outdoor pool and garden.
Did neither of these catch your eye? Check out other options at the Praia dos Ingleses.
Praia do Jurerê
Jurerê Beach Village is one of the largest hotels in Jurerê beach and has a large leisure area. The hotel has an outdoor swimming pool, sauna, games room, garden and a wooden deck that takes you directly to the beach.
A more economical option on Jurerê beach is the Apart Hotel Jurerê, which is 500 meters from the sea and has a well-structured leisure area with a games room, barbecue area and a small swimming pool.
There are dozens of accommodation options in Jurerê. Click here to see them all.
Where to stay on the southern side of the Island
The beaches in the south of the Floripa are less popular, and therefore less crowded, than the ones in the north of the island. There are more than 10 beaches in this region.
If you are looking for a place to stay there, I suggest Campeche beach, as it has the best structure and a broader accommodation offer.
In this region of Florianópolis there are many natives and the closer contact with nature is delightful. Don't miss out on doing a boat trip to the island of Campeche, the famous "Caribbean of Santa Catarina", or hike to the beach of Lagoinha do Leste (photo below).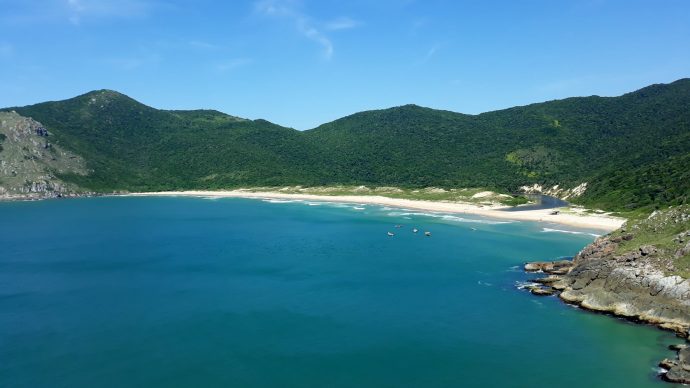 Praia do Campeche
The Casa Mar Campeche is located in the Morada do Sol condominium. It is a house with private suites, in the style of an inn. It has a wonderful garden, swimming pool and breakfast and is very well located, 150 meters from the beach.
The Pousada Recanto do Neca is also close to the beach and to downtown Campeche; a place for those seeking tranquility and comfort.
Another interesting option is the inn Pousada Los Amigos, which is simple, but quite satisfactory.
Click here to see the complete list of accommodations in Campeche and check the updated prices for the dates of your stay.
Where to stay on the eastern side of the island
The eastern side of the island is made up of Lagoa da Conceição, Praia Mole, Praia da Joaquina and Praia da Barra da Lagoa.
Lagoa da Conceição is a very busy place, with numerous bars, restaurants and shops. In addition, it is close to Praia Mole and Praia da Joaquina, which are two very famous beaches in Florianópolis, especially among surfers.
Praia Barra da Lagoa has a different vibe, full of alternative people and natives of the island. It's a great place to learn to surf: there are several surf schools on the waterfront.
Lagoa da Conceição
In Lagoa da Conceição there are some affordable options. If you are on a budget, I recommend this region due to its many hostels, such as the Geckos Hostel, which is located on Avenida das Rendeiras and is super cool.
Click here for more inns, hotel and hostels at the Lagoa da Conceição.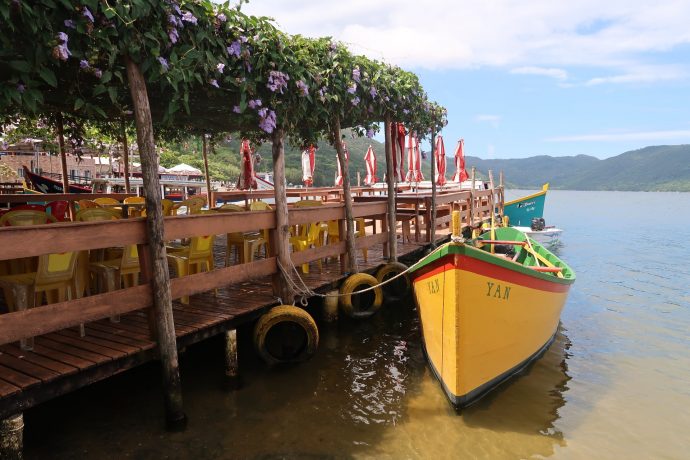 Praia Mole
For those who want to stay in Praia Mole, a great place is Selina Floripa, a hotel that has private and shared rooms and a giant leisure area, including an outdoor pool, coworking space, bar and restaurant. It also provides yoga classes and surfboard rentals. Selina is a very nice chain of hotels/hostels, present in many countries and perfect for digital nomads.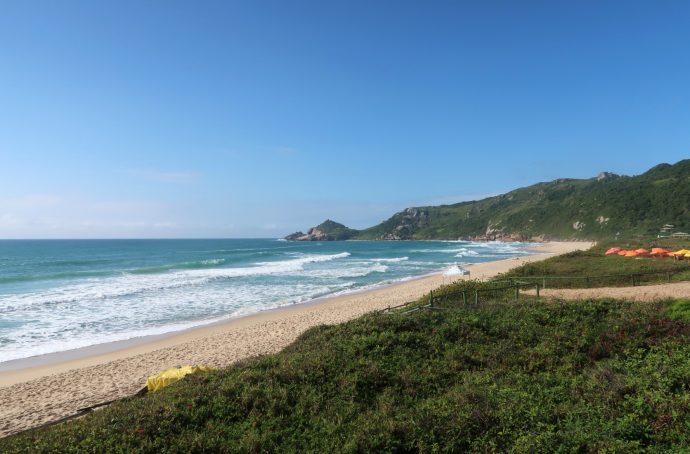 Praia da Joaquina
At Joaquina beach you will find the Cris Hotel with an excellent location in front of the beach. It's an old hotel, but always keeping up to standards.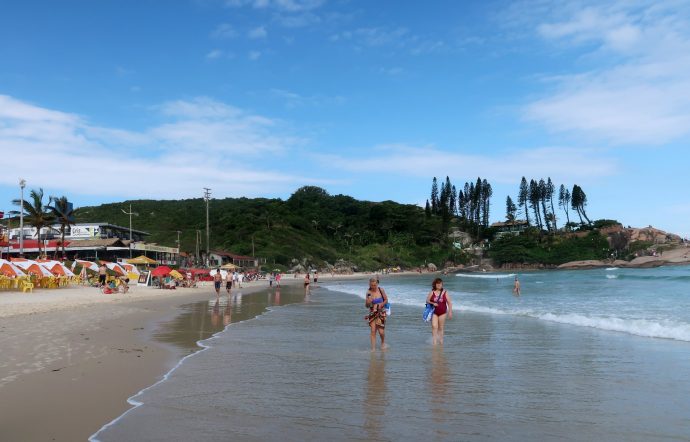 Praia Barra da Lagoa
A very cool place to stay on Barra da Lagoa beach is The Search House, a beachfront hostel with a pool, games room, skate park, bar and a beautiful and well-kept garden. There you have the option of shared or private rooms.
Pousada Mar do Leste is also a great accommodation choice at Barra da Lagoa beach. It's highly rated by guests, with an average score of 9.2 on Booking.com.
For those who want a place where they can feel part of nature, I recommend Hostel do Morro, which is on the little beach next to the Barra da Lagoa canal. You can only get there by walking. The view from there is wonderful and if you're lucky you get to have breakfast with monkeys!
Would you like to see more? Check all accommodation options at Praia Barra da Lagoa.
Do you have questions about where to stay in Florianópolis? Let me know in the comments section and I'll get back to you asap!
Article written by Bárbara Nicoli for Janelas Abertas