Where to stay in Búzios, Brazil: best beaches, hotels and inns
By Bárbara Nicoli
Would you like to know where to stay in Búzios, Brazilian beach in the state of Rio de Janeiro? Allow me to give you some options! There are several accommodation options in Búzios for different tastes and budgets and I'm sure you will find a hotel, inn or hostel that fits your traveler profile in the suggestions below.
Situated approximately 180km East of the capital city of Rio de Janeiro, Búzios is part of the so-called Lake District, which is made up of 9 cities: Araruama, Armação dos Búzios, Arraial do Cabo, Cabo Frio, Iguaba Grande, São Pedro da Aldeia, Saquarema, Rio das Ostras and Macaé. The ones most known for tourism are Búzios, Arraial do Cabo and Cabo Frio.
The Lake District is made up of more than 100 km of coastline, with numerous lagoons and beaches ranging from those suitable for surfing to others with calm, crystal clear waters. The Lake District is a true paradise, and it is not by chance that Búzios has become the preferred choice for the famous Brigitte Bardot (who even got a statue there) and many Brazilians, Argentinians and other tourists from around the world.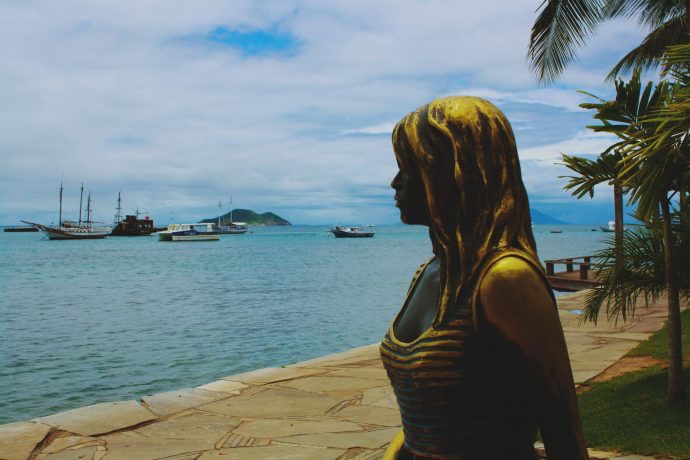 Below, you will find where to stay in Búzios, the oceanic peninsula considered by many to be the most charming in Brazil. But first, have a look at how to travel on a budget to Búzios and other cities in the Lake District.
You might also like to read:

Trip to the Brazilian Amazon: a tour for responsible tourists
What to do in Salvador de Bahia, Brazil
What to do in old town Recife, Brazil
How to travel to Búzios on a budget
Transportation
A valuable tip for those who want to travel to Búzios and its surroundings on a budget is to use public transport. It works well, specially on the Cabo Frio – Búzios and Cabo Frio – Arraial do Cabo routes. You can take a bus in Búzios and go to Arraial do Cabo for BRL 6. The journey takes a little over an hour and is very smooth. To get around the Búzios peninsula itself, there is the option of using the vans that go along the main avenue every 20 minutes. They will stop anywhere, just put up your hands to signal you want to get in.
Food
Eating along the seaside is expensive, of course! If you want to save money in Búzios and its surroundings, always try to have a snack and some water in your backpack, so you don't fall into temptation when you're hungry and end up paying a lot of money for a simple portion of French fries. All the cities in the Lake District are well structured and you can stop by a market before going on a tour.
Accommodation
On most trips, accommodation is the 'big spender'. Finding hotels and inns that combine our style with the price we are willing to pay can be the biggest challenge when planning trips anywhere in the world. I hope that my suggestions of where to stay in Búzios will help you with your search.
The best regions to find good accommodation in Búzios
There are plenty of good options for where to stay in Búzios, with hotels, inns and hostels for all tastes and budgets. I spent two months in this little piece of paradise, moving between Rua das Pedras (the main street in the tourist area) and Praia de João Fernandes, which in my opinion is one of the most enjoyable beaches on the peninsula.
In addition to these two, I also recommend the area near Praia da Ferradura, especially for those traveling with children. The beach there has calm waters and several water attractions, such as pedal boats, kayaks, stand-up paddling and banana boats.
For those who like surfing, the perfect place to stay in Búzios is Praia de Geribá, also known as Geribali. It usually has big waves and attracts a younger and hipper crowd. It has a great structure of bars and restaurants, as well as surf lessons. Every Sunday they offer free surf lessons for women, which I thought was really cool. I even attended one of the classes.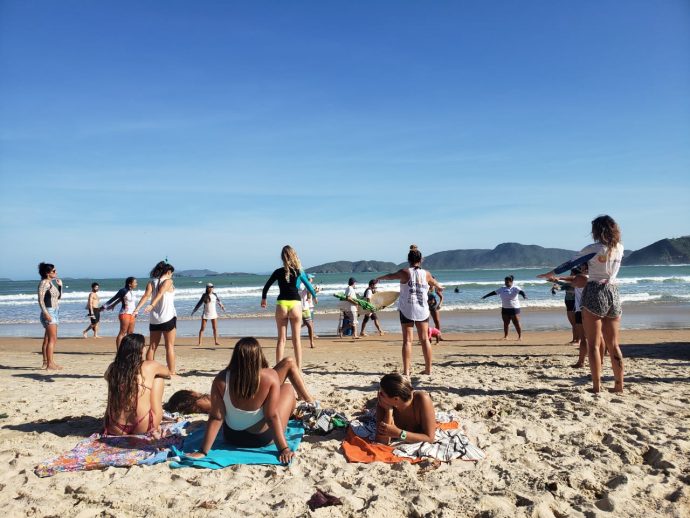 Where to stay in Búzios at Rua das Pedras
Rua das Pedras is at the heart of this coastal city, where everything happens. It is the best place for those who like restaurants, bars and clubs. It also has easy access to all the beaches on the peninsula, making it a great place to stay while visiting Búzios.
Bamboo Buzios Hostel
Of the places to stay near Rua das Pedras, Bamboo Buzios Hostel is, in my opinion, the accommodation with the best location. It is close to restaurants, bars, markets, bus stop, and most importantly, it's a hostel on the beach! It has a beach bar, and has kayaks and stand-ups for rent, besides from a beautiful view of Canto Beach with a wonderful sunset.
Despite being a hostel, it has several private suites, including some with a view of the sea. Breakfast is simple, but very tasty. There is no parking, but they have a partnership with a nearby car park.
Selina Búzios Hotel
The Selina Búzios Hotel is also very well located, close to the Rua das Pedras and less than 5 minutes away from the beaches of Canto and Armação. It's great value for money. Depending on the season, some activities like yoga, meditation and workout classes are included.
The hotel is a very colorful place: design, art and creativity are always present in Selina's spaces because they focus on providing an experience, rather than just a place to sleep. The hotel has an outdoor swimming pool, garden, sauna, Wi-Fi and free private parking.
Pousada Bucaneiro
The Pousada Bucaneiro is approximately a 15-minute walk from Rua das Pedras and 10 minutes from Praia do Forno and Praia Brava. For those traveling to Búzios with a pet, it is a great option, because they are pet friendly. The Pousada Bucaneiro is one of those inns where you end up wanting to spend most of your time there, rather than going out.
The atmosphere is very pleasant, with lots of green areas, a large garden and a leisure area with swimming pool, hot tub, bar, barbecue, steam room, pool table and massage room. Besides all that, they offer free breakfast, parking and internet. Considering all that's included, the pricing is very good. Oh, and if you are a wine lover,  you should know they have a wine cellar with many labels.
Pousada Águas Claras
The Pousada Águas Claras is priced a little higher than the two accommodation options that I mention above, but it is worth checking out. Guests speak highly of the service and of its peaceful atmosphere.
This accomodation in Búzios is less than 10 minutes away from Rua das Pedras, which means it is also well situated. It has two swimming pools, sauna, yoga classes, Wi-Fi and free parking. The rooms are elegantly decorated and they offer a hearty breakfast.
Check out other options for inns and hostels in downtown Búzios.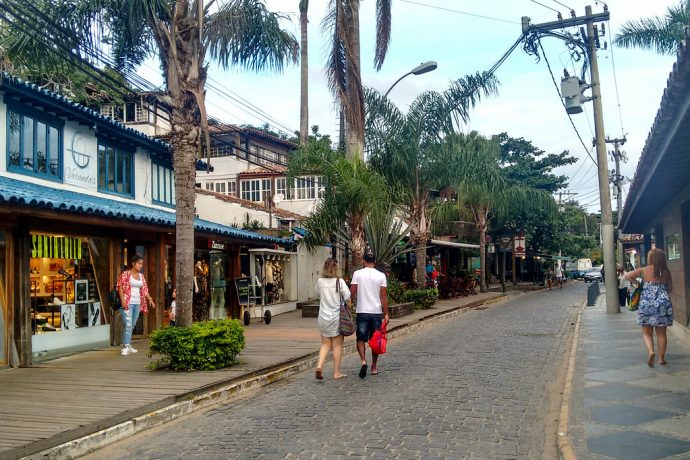 Where to stay at the João Fernandes Beach
The João Fernandes and João Fernandinho beaches are breathtaking. Once you get to know them, you probably won't want to go to anywhere else.
Usually, those who go to Búzios for the first time stay close to Rua das Pedras because it is easily accessible to all corners of the peninsula. However, those who visit the city for the second or third time end up choosing the place they liked the most. The João Fernandes Beach is certainly one of the most loved by travelers.
You can take a quick look at all the accommodation options at João Fernandes Beach, or go straight to one of the recommendations below.
Hotel Bliss in João Fernandes
The Hotel Bliss is a relatively simple hotel: their rooms are basic, but comfortable. It is a 2-minute walk from João Fernandes Beach and has a swimming pool, bar and a beautiful view at sunset. This is certainly the hotel's highlight: being able to enjoy the sunset from the pool while having a nice drink. For those who want to enjoy João Fernandes Beach on a budget, it is a great option.
The Coronado Inn Hotel
The Coronado Inn Hotel is also a great choice for lodging in Búzios at João Fernandes Beach. All the rooms come with air conditioning and some have ocean view. It is a large hotel, ideal for group trips. Breakfast, parking, swimming pool, sauna and Wi-Fi are included.
Hotel Ville La Plage and Beach Club
The Hotel Ville La Plage and Beach Club caught my attention because of its beach bar. In addition, it has a swimming pool overlooking the ocean, a nice garden and great rooms. They value tranquility in the midst of nature and pay close attention to details.
Bahiamarela Boutique Hotel & SPA
The Bahiamarela Boutique Hotel & SPA is a more sophisticated hotel, and consequently a little more expensive. It has a great infrastructure and an exquisite breakfast. The decor is charming and the garden is very well kept. It's worth spending a little more just to feel the energy of this place. Oh, and it's just 1 minute away from João Fernandes Beach.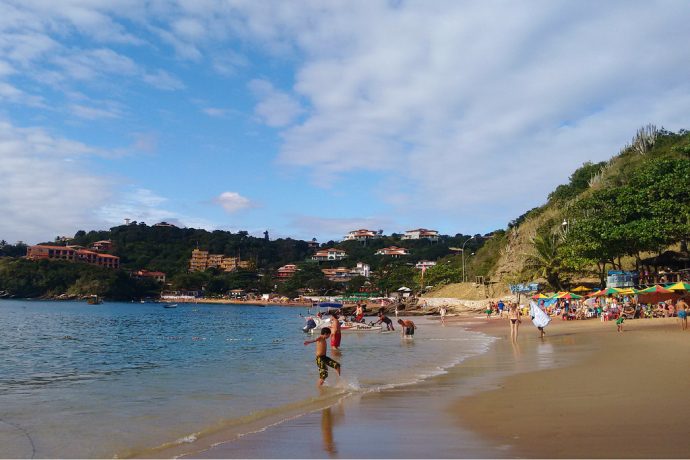 Where to stay at the Praia da Ferradura
It is not easy to find low budget accommodation at the Praia da Ferradura, as it is an upscale neighborhood of the peninsula, but it is very interesting to stay there. It is a privileged area in relation to nature: the beach is more of a bay, so most of the inns are on the hills, with beautiful views.
Villa Raphael
The Villa Raphael inn is highly rated by guests, with one of the best scores among accomodation options in Búzios: 9.4. The stunning pool view extends to the sea, making one wonder whether to go to the pool or the beach.
This B&B is fully decorated with pieces of art, adding value to the romantic and inspiring atmosphere. In addition to the beauty of the place, Villa Raphael provides guests with a wonderful culinary experience for breakfast.
Want to see more accommodation options at the Praia da Ferradura? Click here.
Where to stay in Búzios at Geribá Beach
At the Geribá beach, there is a variety of accommodations: there are hotels and inns for all styles and budgets. It is the most democratic place to stay in Búzios, because it has everything from hostels with shared rooms to large luxury hotels.
Pousada Gente Bonita Geribá
One of my best recommendations of where to stay in Búzios, the Gente Bonita inn is very well rated and the daily rate is reasonable during most of the year. It is one minute from Geribá Beach and provides breakfast, swimming pool, parking and internet.
See also the other accommodation options in Geribá.
Do you still have any questions about where to stay in Búzios, or would you like to share your own suggestions? Leave a comment!