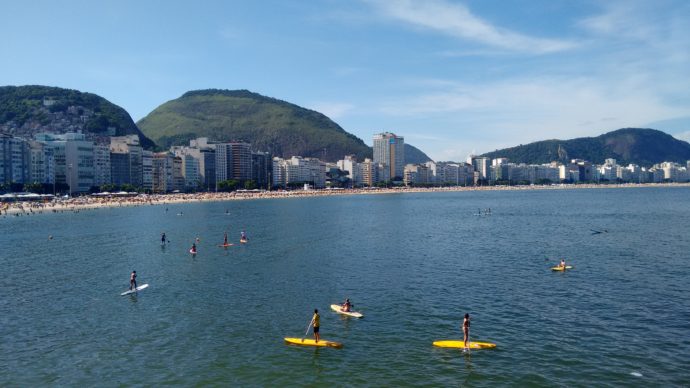 Rio de Janeiro: what to do at the Copacabana Fortress
Rio de Janeiro is a magical place. As stressful as day-to-day life in the city may be, it's full of little places where you almost forget you're in a megalopolis. Among those places one of my favorites is easy to get to, has a beautiful view and houses a museum and delicious cafés: the Copacabana Fortress (Forte de Copacabana).
You must have figured out it's located in Copacabana neighborhood, right? :P It's easy to find, right at the end of the beach, just after the rows of colorful umbrellas, tanned people and sellers of cold mate tea.
You'll be charged an entrance ticket, but there's no doubt that the R$ 6 (or R$ 3 for students and people over 60) are worth it.
Looking for a place to stay in Rio? Click here and go to Booking.com to find the best B&B's, hostels and hotels in the city 
Inside the Fortress you can visit a temporary exhibition hall, the Army Historical Museum and my favorite part: the dome. And you can also have breakfast, brunch, a snack, lunch, tea or dinner at the traditional Confeitaria Colombo (which has its main unit in the city center) or in its less crowded neighbor, the Café 18 do Forte.
Simply sitting on the stools facing the beach, feeling the sea breeze and looking at the people stand up paddling is already nice enough. But walking over the dome at the tip of the Fort is even better.
There, you find not only a handful of cannons installed in revolving domes, but also – or especially – a beautiful view of the ocean. <3 Here's a tip: Look for the shadow of a cannon and sit on the ground under it to enjoy the scenery for a bit longer without melting under the sun. :)
Are you hungry?
Many people go to the Fort to enjoy the traditional sweets and snacks from Confeitaria Colombo overlooking the sea. It was what I did on my first time there and, despite the high prices, I didn't regret it. :) After all, how can you worry about anything while eating right in front of a postcard?
One of the most popular orders there is the "chá do forte", which is like an afternoon tea menu. It's not the most special thing in the world, but gets a bit extra flavor from the atmosphere. It comes with items such as yogurt, butter, jelly, cereals, breads, ham, cheese, orange juice and cake, plus coffee, tea or hot chocolate, but you can check out the full menu (in Portuguese) here.
If you like to eat early, it's better to have a pre-breakfast at your hostel or hotel, because Colombo only opens at 10h. But it's good to be there earlier – at least if you want to sit at one of the tables near the sea. If you go there from Tuesday to Friday (except in January and July), you can book a table by writing to cafedoforte@confeitariacolombo.com.br or calling 99603-2171. On weekends and holidays there isn't much choice: you've got to face the waiting line.
But right past the most famous coffee shop you will find a less crowded coffee shop, the Café 18 do Forte, which offers salads, sandwiches, waffles, omelets and breakfast menus, among other things. I was tempted to try it all, but only bought one of the famous Brownie do Luiz, which is a hit and can be found in many places around the city.
What about some history?
"But does this girl only talk about food?", you may be wondering. :P There actually is more to the place. After all, the Copacabana Fort was important to Brazilian history: conceived in the late 19th century to prevent the approach of enemy ships that could threaten the entrance of Guanabara Bay, it was the scenery of remarkable episodes in the 20th century.
One of them was the 1922 Lieutenant Movement (Movimento Tenentista), known as the Levante dos 18 do Forte, and another one was the 1930 Revolution, when it served as a prison for the deposed President, Washington Luis. The fort also held meetings of the "Revolutionary Command" at the time of the military coup that took place in 1964.
Since 1987, the building houses the Historical Army Museum, which includes long-term exhibitions on the actions of the Brazilian Army in the Republican period and some objects that belonged to military presidents.
I confess that I skipped this part and went straight to fortification. It could house soldiers for a long time, since the space was quite well equipped, with a kitchen, storage, lodges, oratory, toilets, infirmary, among other rooms. It's interesting to imagine the lives of the soldiers back then – they've even got weird mannequins to help your imagination. :P
Done with the history lesson? Head back outside and take all that blue ocean in. <3
Important info
Address: Praça Coronel Eugênio Franco nº 1
No parking
By subway: Cantagalo Station (Copacabana) and General Osório Station (Ipanema) are the closest
By bus: several lines go by Av. Nossa Senhora de Copacabana
More information on Forte de Copacabana's official website

Quer receber conteúdo exclusivo e gratuito sobre viagens?
Inscreva-se na lista de e-mails do Janelas Abertas e receba um e-book de 60 páginas com dicas para viajar só + check-lists para sua viagem + dicas inéditas a cada 15 dias.