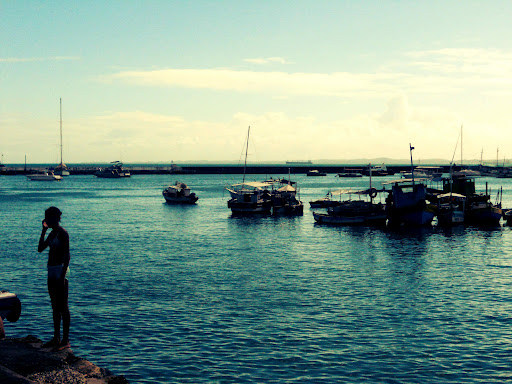 What to do in Salvador de Bahia, Brazil
In a country of continental proportions and such a huge cultural diversity it's impossible to pin one specific place that would represent the "real Brazil". The city of Salvador, however, gives great insight into one of our most defining features: the African influence. From the culinary delicacies to the musical manifestations and the religious traditions, it's one of the country's most interesting capital cities.
Besides from being the capital of Bahia state, Salvador was also Brazil's first capital, having had a huge importance in the country's history. Located in the Northeast region, it's surrounded by the ocean, with a coastline more than 40km long. A combination that is sure to make you feel glad for going beyond Rio and Foz do Iguaçu. "But what to do in Salvador", you may ask?
Historic center
To start getting acquainted with the city, there's nothing better than taking a stroll around its historic center. You can begin your exploration at the Largo do Carmo Convent, which houses the beautiful (although poorly maintained) baroque Carmo Church. Next to it is the Pestana Convento do Carmo hotel, which claims to be "the first historical luxury hotel in Brazil".
From there, descend the slope to the left, passing by the Church of the Blessed Sacrament of Passo (Igreja do Santíssimo Sacramento do Passo) and arrive at the main square of Pelourinho, which is arguably the most famous tourist attraction in the city.
The area got its name because "pelourinho" means pillory (a device used for punishment by public humiliation), and slaves and criminals were once punished in this square. Named a World Heritage site by UNESCO, it's been a source of inspiration for Brazilian and international musicians, like Caetano Veloso and Michael Jackson, who recorded scenes of a video clip there.
Looking for a place to stay in Salvador? Click here and go to Booking.com to find the best B&B's, hostels and hotels in the city 
This area of the city has been going through ups and downs throughout the years: it gets degraded, then it's revitalized, only  to be abandoned by the government again. In my most recent visit, a few years ago, I found it to be reasonably well maintained, but it's not the safest place, so you should always be watchful of your belongings.
There, you can visit the Jorge Amado House Foundation (Fundação Casa de Jorge Amado), which houses temporary exhibitions and a great collection about this important Brazilian author, who wrote renowned books portraying Bahia and Brazil. His work has been translated to forty-nine languages, being a great source of information and inspiration if you feel like delving deeper into the local culture.
(By the way, If you've read the books and want to know more about Jorge Amado and his wife Zélia Gattai, who was also an author, you should pay a visit to their former house, called Casa do Rio Vermelho, which has been turned into a memorial. Located in the Rio Vermelho neighborhood, it was their home for 40 years and is full of interesting works of art and good energies: many personalities used to stay there with them, from Pablo Neruda to Jean Paul Sartre.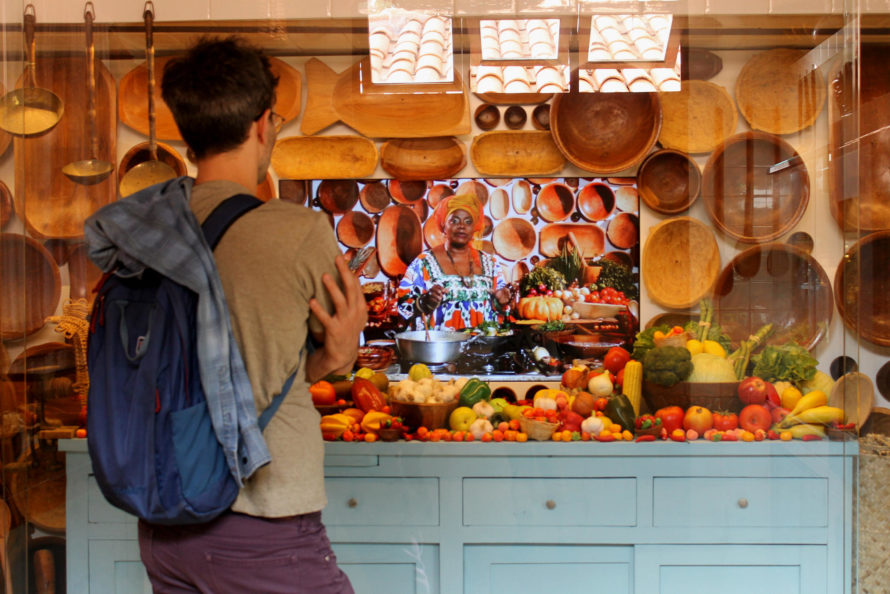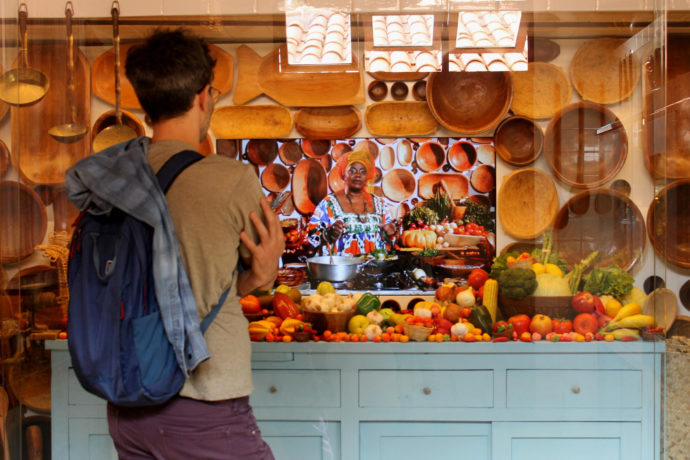 Ok, but back to the center: near Jorge Amado Foundation, going down Alfredo de Brito Street, you'll pass by a traditional ice cream place called A Cubana, which was founded in the 1930s and offers many flavors made out of local fruits. From there it's only a little way down to get to Largo Terreiro de Jesus, where you'll find the Cathedral Basilica.
Making a small detour to the left you'll find the Church and the Convent of St. Francis (Igreja e Convento de São Francisco). The church is one of the richest expressions of Brazilian baroque and its interior is covered with gold, while the convent has a charming courtyard covered with panels of beautiful Portuguese tiles.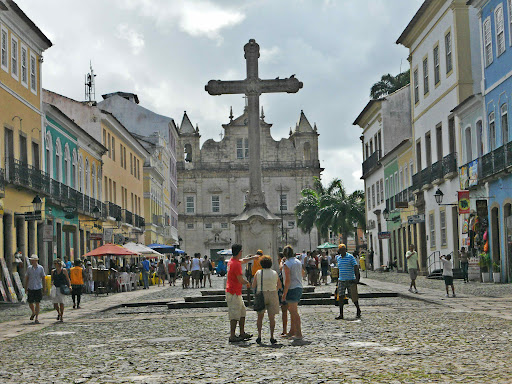 Then you can go back a little bit and turn left towards the Fallen Cross Monument (Monumento da Cruz Caída), erected in honor of the old Cathedral which was demolished. And if you walk a little further you'll get to Plaza Thomé de Souza, where you'll find the well-known Lacerda elevator.
From there you can view the "cidade baixa" (lower part of the city), which can be your next stop on this tour. Unfortunately, the elevator is not panoramic, but it's an undisputed icon of the city, as well as an interesting means of transport. Take it to the lower level and cross the street to get to the arts and crafts market Mercado Modelo, where you'll find your typical choice of souvenirs. If you are one of those who like to bargain, do not be shy: you can probably lower the prices of most items there.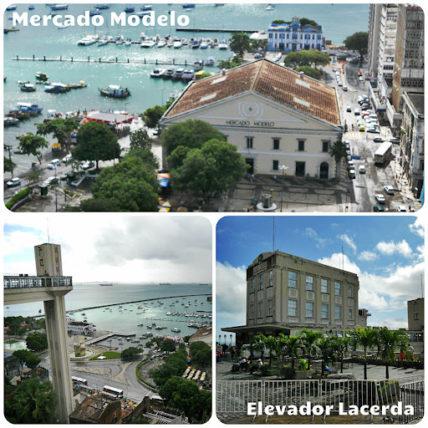 In front of the market, colorful boats make up the beautiful landscape of the Bay of All Saints (Baía de Todos os Santos), which can also be seen from the first floor of the market. If you're hungry or feel like stopping for a rest (or for some beer), you can grab something to eat or drink upstairs, overlooking the bay.
Be aware: in big tourist spots such as Pelourinho, the entrance to the Elevador Lacerda and the Igreja do Bonfim (which you'll read about soon), you may be harassed by people willing to "give you" Bonfim's ribbons (a typical souvenir), necklaces and the like. It's best to say you're not interested upfront, because what starts free usually ends with the person insisting for you to buy something.
Here's a map of the Historic Center:
Typical food and nightlife
If you're into trying typical food when you travel, you shouldn't leave Bahia without having a taste of the traditional, African-inspired black-eyed pea fritters called acarajé. You can find them in many places around Salvador, but the most famous stalls are the ones from Dinha, Cira and Regina, that can be found in the neighborhood of Rio Vermelho. They get very busy on weekends, when lots of people gather around to eat this delicacy and buy drinks from nearby bars or street vendors.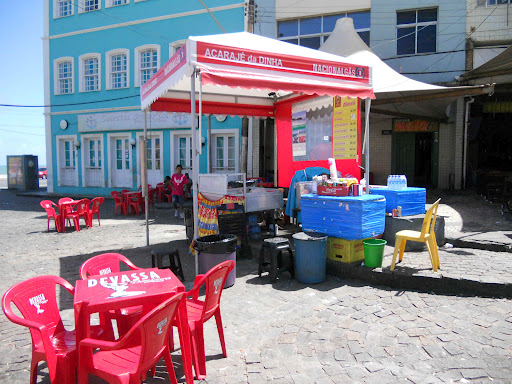 Rio Vermelho is also one of the most popular areas for those looking for a night out, from cheap bars to hip restaurants and nightclubs. It's a great option for when you're not sure about what to do: just go from one place to the other until you find something that pleases you.
If you get the chance, it's also worth going to an Olodum rehearsal. The Olodum is a traditional Afro-Brazilian band founded in the late 1970's and known for their "bloco" that takes the streets during Carnival. Its headquarters are located in the Pelourinho, which hosts most of its presentations. Besides from the musical aspect, the Olodum group also advocates against social discrimination and in favor of the development of self-esteem and pride of African-Brazilians.
The oldest lighthouse in America
Finish one of your days in Salvador in one of the city's postcards: the Farol da Barra. Installed in the Fort of Santo Antônio da Barra (the oldest military building in Brazil), this lighthouse was the first in America, built in 1698. Until 1937, when electricity was installed in it, the lamps were fed with whale oil to signal to the navigators at the entrance of the bay.
You can climb to the top of the tower if you pay the admission ticket to the Nautical Museum of Bahia (Museu Náutico da Bahia), which houses a collection of submarine archaeological finds, navigational instruments and nautical signs, miniatures of vessels and a permanent exhibition on the geography, history, anthropology and culture of the Bay of All Saints, as well as the maritime, military and administrative life of the city of Salvador.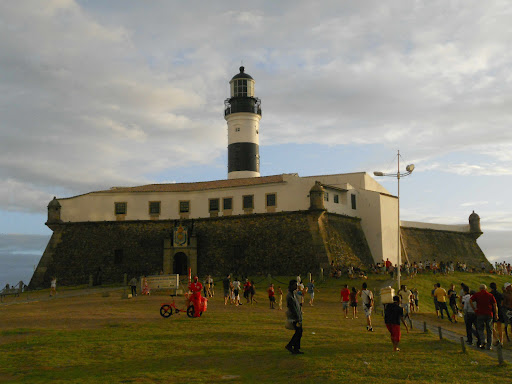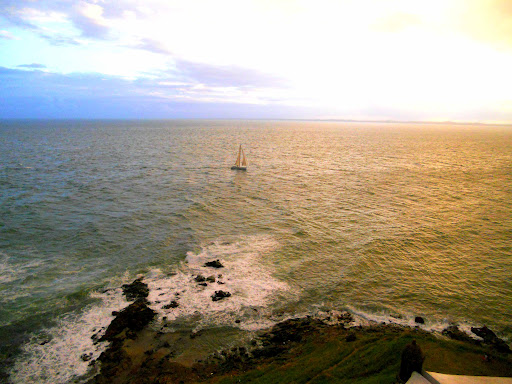 Watching the sunset on the lawn behind the lighthouse is a tradition in Salvador. People even applaud when the sun goes down, while couples get romantic and groups of friends play the guitar. Another traditional spot to see the sunset is the Porto da Barra Beach, 800 meters away from the lighthouse.
If that's not enough for you, another good place to watch the sunset is the Solar do Unhão, in front of the Modern Art Museum (Museu de Arte Moderna, aka MAM). On Saturdays there usually are jam sessions there, with good live music combined with amazing views of the bay.
The church of colorful ribbons
Remember the "Bonfim ribbons" I mentioned above? These colorful ribbons that became one of the most popular Brazilian souvenirs come from the church of Lord Bom Jesus do Bonfim (Basílica Santuário Senhor do Bonfim), a saint many people in Bahia are devoted to, in spite of it not being the state's patron saint.
Built between 1746 and 1754 to house an image of Lord Bom Jesus do Bonfim brought from Lisbon, the Bonfim Church has a neo-classical style with a rococo façade, following the style of Portuguese churches from the 18th and 19th centuries.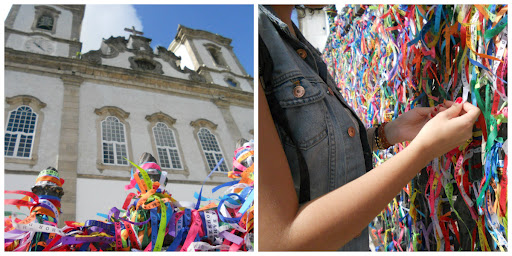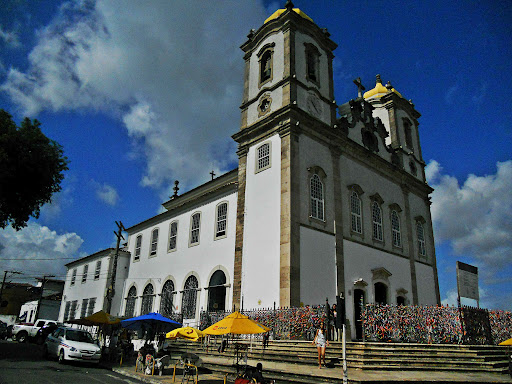 The church isn't the most beautiful one in the city and it's not so close to the center, but besides being the most famous it's an interesting visit due to the huge amount of colored ribbons tied to its grills, which looks pretty cool. According to tradition, you're supposed to tie one there or to your wrist and make three wishes, one for each knot.
Ice creams and colorful boats
Have you been to all the places mentioned above? Besides from taking a day trip to nearby beaches you could pay a visit to the Ribeira, which isn't far from the Bonfim Church. This neighborhood was initially occupied by fishermen's colonies and was once a fancy summer resort. Considered one of the regions in greater decline in the city, there are those who think that it's not even worth going anymore, but I disagree.
If you have a couple of hours to spare, go check-out the bay with dozens of small colorful boats. The place is also charming because of the fishermen in their ritual of preparing the boats, the sight of islands and the simple things that seem to have stopped in time. Oh, and it's said to get busy with bars and restaurants on weekends.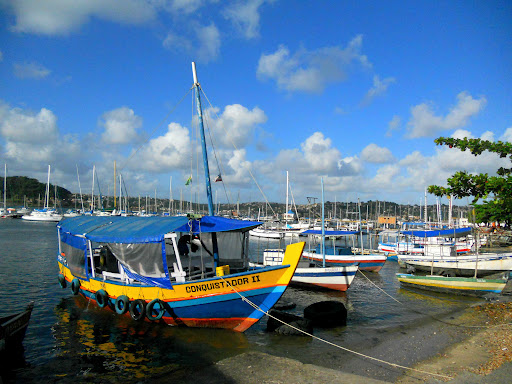 Not to mention what I consider to be its main attraction: another traditional ice cream place from the 1930s, Sorveteria da Ribeira. It's considered the best in the city by several celebrities, and on its wall and website you'll find plenty of newspaper articles and pictures of personalities that came by.
The ice creams are made from fresh fruits, so you'll only find the ones that are available at the time of each harvest, but you can expect a fairly wide selection all year round. Among the dozens of flavors, you should try some like pitanga, cajá, mangaba, tapioca, sapoti and cupuaçu. A great way to leave the city with a taste of Brazil. :)

Quer receber conteúdo exclusivo e gratuito sobre viagens?
Inscreva-se na lista de e-mails do Janelas Abertas e receba um e-book de 60 páginas com dicas para viajar só + check-lists para sua viagem + dicas inéditas a cada 15 dias.