How to do a work exchange: complete guide and discount code
Wondering how to do a work exchange? Exchanging work for accommodation is a cheap, fun and personally enriching way to travel. Hostels, inns, organic farms, families and social organizations around the world offer accommodation and extra benefits for people willing to work a few hours a day (usually three to five) in the most varied roles. It seems really cool, right? And it is!
You can teach language classes, cook, make repairs, paint walls, welcome guests, make beds, organize tours and parties, work on marketing, develop websites, create graphic pieces, do gardening and much more.
In general, the volunteer's minimum stay is one or two weeks, with one or two days off and free time during the week to rest, party, explore the city or work on personal projects. But there are opportunities from 3 to 4 days too.
This type of exchange brings great advantages: in addition to saving on accommodation (one of the biggest expenses when travelling), the participant is immersed in the local culture and in contact with people from other places, apart from acquiring new skills.
I've traveled this way a few times, mostly through a platform called Worldpackers, and I know a lot of people who spent months on the road in this scheme, so I highly recommend it! You just need to stay on top of a few basic tips so you don't get into hot water and enjoy the best of the experience. In this article, I'll teach you the most important information on how to do a work exchange.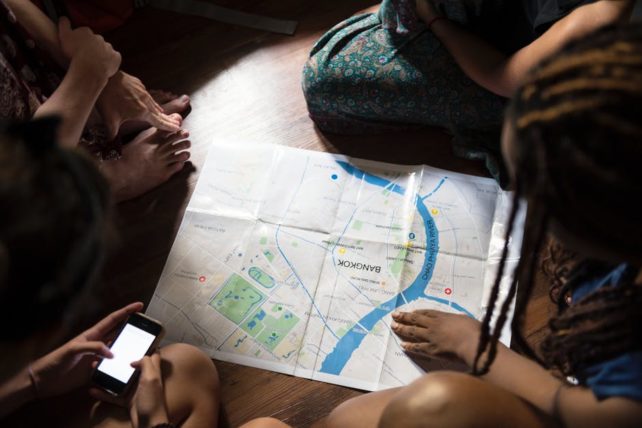 How to do a work exchange: step-by-step guide
1. Set up a profile in a specialized website
There are a thousand ways to get a work exchange scheme: sending emails or even messages on social media to hostels in the city where you want to go, asking for recommendations from other travelers or just wandering around and visiting places when you arrive at your destination. But the way I have always done it, which is theoretically safer, is to create a profile on one of the websites that are specialized in connecting establishments and "volunteers".
The main work exchange platforms today are Worldpackers, Workaway, WWOOF and Helpx. The downside of these sites is that they all charge a fee to contact the hosts, but there are several advantages: you have access to the role descriptions and benefits and to reviews left by those who have already "volunteered" in the placements. In addition, some of the sites offer support if it turns out that the host is not meeting the agreement, such as guaranteeing you a few nights in a hotel (Worldpackers Insurance).
How to choose the best site for you? I suggest you look at the plans ($$) and the opportunities available in each one. For those looking to perform a more specific role, I recommend Worldpackers because it has great filters by type of work.
For those who want to see more varied opportunities, Workaway is a good choice. If your focus is on working on organic farms, you may find something in these first two, but if not, the ideal one is WWOOF, which focusses on that, but has separate sites for each country.
When setting up your profile, which usually includes photos and information about your personality, qualifications and interests, give it time and attention. It's as if your registration were your CV, and the neater it is, the more chances you have of getting a dream opportunity. Always remember to be honest and not create false expectations.
Make a very complete description, highlighting your skills and, if possible, mention previous experiences that demonstrate that you are a good candidate. It should include paid or volunteer work, travel and student exchanges, for example, especially if the skills are related to the job you want.
Also, be clear about what you are looking to get out of this experience ("partying, drinking and not having to pay for accommodation" might not be the best approach). Also show how you can contribute beyond the practical attributions of the job (if you're a good cook or have amazing life stories to share, for instance, you can mention that).
2. Choose an interesting destination
Finding a good placement isn't hard, but knowing how to do a work exchange that really matches your expectations might be a little tricky, since there are so many options available.
A good way to start is by delimiting some specific destinations. Think about how far you can go (according to ticket prices and available time), see if you would need to issue a visa and assess the cost of living, language and climate of the destinations.
Also, reflect on your vibe for this trip: do you want to be in nature and get in touch with your inner self, or do you want to go clubbing in a big city? Are you a surfer and crazy about beaches or do you want to learn to ski? Do you want to leave your comfort zone and look for something totally new or are you on one of your first trips and prefer a place more like your hometown?
Evaluate the conditions of the country at the specific time you intend to travel: weather, holidays, events… It may be worth avoiding a very cold destination in the dead of winter or a beach town in the rainy season.
3. Search for an activity that is appropriate for you
Have you chosen a few countries or cities to focus on? Now it's time to determine what kind of work you want to do. As I mentioned above, there are placements for all types of activities, and it is essential to choose one that you are interested in, in addition to feeling capable of doing it.
It is useless to apply for a job that requires a lot of physical work if you have any limitations, a specific function like programming if you don't have the necessary skills or a job that requires dealing with people all the time if you have no aptitude or interest in that.
Not that it isn't cool to step out of your comfort zone: one of the trips I took on work exchange involved gardening and painting, two things in which I had zero experience, and it was great to learn a little in practice. But in my application I told the hosts that I didn't have experience and confirmed if they would be keen to teach me.
This could be your chance to use professional skills, even adding a new item on your CV, but it could also be the opportunity to discover something new, like permaculture or Asian cuisine.
In any case, read the placement description and benefits carefully. Take into account the level of effort that the job will require of you and the benefits offered in return to assess whether it is worthwhile for you.
At this stage, it is also important to think about whether the amount of hours worked and the requirements of the job are compatible with what is offered in return.
I also suggest you think about whether this placement seems to be replacing the work that would be for a full-time employee or if you will have to perform functions that pose a risk to your health or that of other people or animals, and whether you will need to perform very complicated tasks without supervision, for example. It's important to consider how to do a work exchange that's good for everyone involved, including the local community.
4. Research the host
One of the advantages of finding a work exchange through a specific platform is, as I mentioned, the chance to check feedback from other volunteers who have already experienced the placement. Read the comments carefully, trying to see if there are any problems between the lines.
If you find it useful, get in touch by private message with the people who left reviews. I have done this several times and people have also contacted me, both to confirm that the place was as good as it seemed and to ask for more details about the experience.
I also usually search for the host on Google, typing in the name of the person or the establishment, in addition to looking for extra comments and photos on sites like Facebook, Booking and TripAdvisor.
5. Apply for one or more placements
Picked some places that look cool? Ideally, you should apply for more than one, especially if your trip is coming up soon or if you have already purchased tickets to your destination.
I saw a recommendation from Worldpackers' staff for travelers to sign up for eight or more placements six weeks in advance, but don't take this as a rule.
I've never applied for more than three places because I've always been kind of picky in relation to the work I was going to do, because I was never really depending on the work exchange to make my travels feasible. On the other hand, I've always applied more than six weeks in advance because I like to plan ahead.
Although I have never been refused a placement, I've already had to give up some opportunities because my dates did not match the needs of the host.
In short: it all depends on how essential it is for you to get a place and how flexible you are in relation to jobs, dates and length of stay.
However, even if you apply for 20 different placements, it's not a good idea to copy and paste the same text for all of them. It is important to mention something in your message that demonstrates that you have read the host's profile, explaining why that particular opportunity caught your attention.
Highlight the points in your background that have to do with the placement, tell a little about your travel plans and say why you believe you are a good candidate. By doing so, you greatly increase your chances of receiving a positive response.
6. Clarify all your doubts about the work exchange
Did you and your host match and decide the exchange will take place? Cool! However, before you go out celebrating, buying tickets and packing, see if all the details about the accommodation are very clear.
I find it important to have a frank conversation with the person who will receive you to clarify any doubts regarding the workload, types of work, days off and accommodation structure (type of room, private or shared bathroom, access to the kitchen and other benefits, like the use of a bicycle for free or whatever, a unicorn).
Each place has a different policy to welcome the "volunteers" and each traveler has different expectations, so it is important to be aligned and well informed so that no one gets frustrated. Also, take the time to check how easy it is to get to the place and ask for directions on how to get there.
7. Keep some money aside for any extras
An important detail on how to do a work exchange: accommodation will be free and perhaps food too, but you will have to bear the costs of the rest of the trip. Depending on the destination, this may include visas, travel insurance, airline tickets, airport transfers, tours, shopping and short trips nearby.
If the money is short, it is worth prioritizing places closer to home, with favorable exchange rates (as in Latin America and Southeast Asia) and hosts that offer meals.
Another option is to find ways to earn "pocket money" during the trip. There are people who work online as freelancers, sell jewelry, find other (paid) jobs for a few hours a day… Use your creativity!
8. Have a Plan B
Even taking all possible precautions, there is always a chance that the reality will be different from what was agreed. In addition to giving the contact details and address of the host to someone you trust, it is worth having a cash reserve, researching ways to get to other places from there and taking a look at other work exchange opportunities, couchsurfing, hotels or hostels nearby.
In case you are going abroad, I also recommend buying a local SIM card to be able to communicate in case something goes wrong.
Another important point: if you have any negative experiences, notify the platform you used. They can not only help you, but also remove the host from the platform.
9. Pay attention to immigration
My readers and social media followers always ask about how to deal with visas on a trip of this type, in the case of those going to another country. As there is no money involved and no formal contract of voluntary work, most travelers embark as tourists.
It is good to check the rules of each country, because the sites that mediate this process are not responsible for these bureaucratic issues. However, in general, the advice is not to say that you are going to exchange work for accommodation, since most of your time will be occupied with tourism, and if you talk about "work" without having the appropriate visa, you can be denied entry.
10. Take your duties seriously
It is not because you are not being paid that your duties should not be taken seriously, right? If you have agreed to perform certain tasks and the host is providing what was promised in return, you should show commitment.
Remember that you are not just a guest and strive to perform your duties well, talking to those responsible if you have any trouble. After all, the exchange needs to be fair and beneficial for both sides. The happier people are with your work, the more they will want to continue receiving people, which benefits other travelers.
It is important to be open and flexible when interacting with people from other cultures, whether they are local employees, other "volunteers" or guests. Open your mind to understand different customs and adapt! Always with common sense and respecting your rights, of course.
You might also like to read:
Step-by-step guide for a successful work exchange
A bit about myself and this blog
How to use Worldpackers discount coupon
Is Worldpackers safe? User review and safety tips
Do you have any questions about how to do a work exchange? Have you had this experience before? Tell me in the coments section!
Disclaimer: I get a small commission from every Worldpackers membership purchased with my promo code or link, which is one of the ways I monetize the work I do in this travel blog. I only recommend products or services that I have already used and approved. :)
The photos used in the article are from Pexels and Unsplash (Creative Commons).