Best things to do in Foz do Iguaçu, Brazil: the complete travel guide
Apart from visiting the Iguaçu Falls, one of the Seven Natural Wonders of the world, there is much more to do in Foz do Iguaçu, Brazil.
In addition to the Brazilian side of the park, which is accessed by Foz do Iguaçu itself, your trip can include the Argentinean part of the falls, the Itaipu Dam, the bird sanctuary Parque das Aves and the Buddhist Temple.
There are also other activities such as shopping for cheap in Paraguay (just cross a bridge and you're there) and enjoying the restaurants and nightlife.
In this article, you'll find out the best attractions in Foz do Iguaçu and also important information for planning your trip, such as when to go, where to stay, how to get around and what to pack.
You might also like to read:

Where to stay in Florianópolis, Brazil
Trip to the Brazilian Amazon: a tour for responsible tourists
What to do in Salvador de Bahia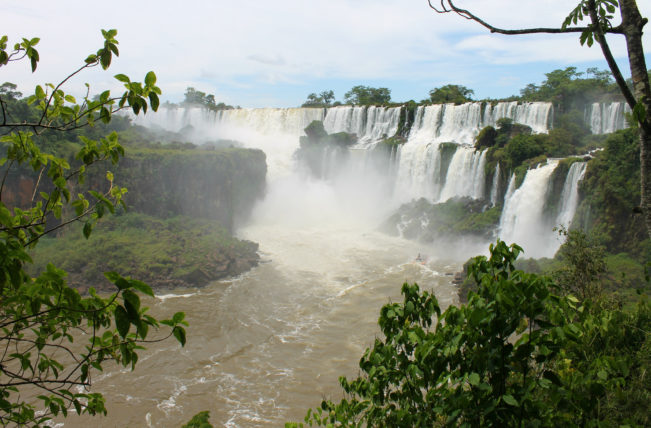 Planning a trip to Foz do Iguaçu, Brazil
When to go
For nicer temperatures, go to Foz do Iguaçu in April, May or September. But in general, any time works.
In the Spring and Summer (around September to March) it's rainy season, so the flow and volume of water from the falls is more impressive. On the other hand, during those months you should be prepared to face the heat while walking along the trails.
In the driest but cooler season (March to August) some waterfalls may be "dry", but you can see the falls a little better without the cloud of vapor that forms around them in the rainy season.
As with any popular destination, I would not recommend visiting during national holidays and school vacations if you'd like to avoid crowds. That means avoiding the months of July, late December and January, when many Brazilians are on holidays.
If, however, that's not feasible, it's still ok, because the structure at the attractions is good and if you arrive early you can still dodge the crowds a bit.
I went to Foz do Iguaçu between Christmas and New Year and spent a long time waiting in line at the Brazilian park because I arrived there a little late, but everywhere else it wasn't a big problem.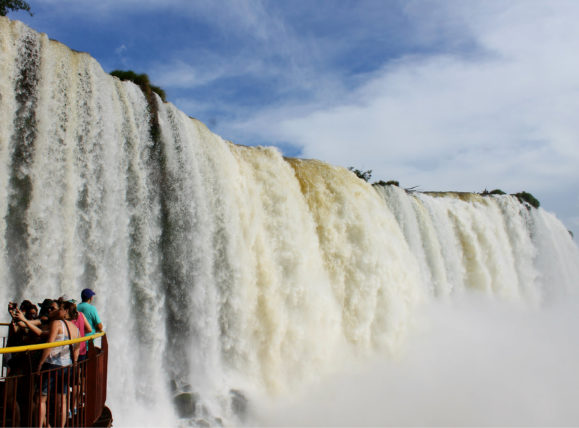 How long should I stay
If you just want to see the Iguaçu Falls, two full days are enough to cover the basics. If you're travelling by car and don't mind waking up early and not going on the "extra" paid attractions on the waterfalls' parks, you can even fit one more attraction on the day you go to the Brazilian side of the waterfalls, such as the Buddhist Temple, Parque das Aves or Itaipu.
However, if you wish to go elsewhere or to go twice to the Argentinian side for more tours (the second day ticket has a 50% discount), set aside another two or three full days.
Best things to do in Foz do Iguaçu, Brazil
On the first day, I recommend waking up early and going to the Brazilian side of the falls (Parque Nacional do Iguaçu, in Portuguese).
Besides from seeing the falls from the easy walking platforms, it's worth going on the Macuco Safari, a boat tour that goes under the waterfall. This tour is not included in the price of the ticket.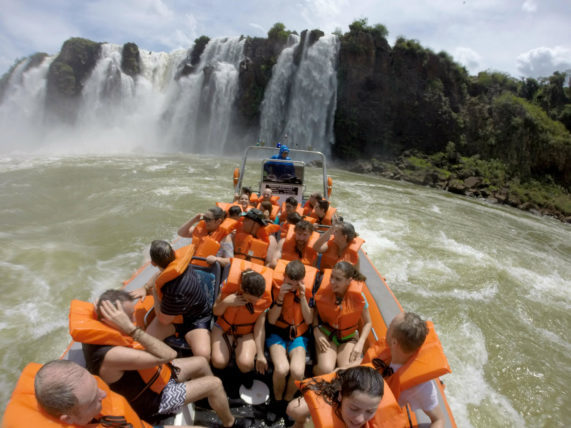 If you don't spend the whole day there, you combine this with a visit to the bird sanctuary Parque das Aves, which is very close. Parque das Aves is the only institution in the world focused on the conservation of the exuberant birds of the Atlantic Rainforest.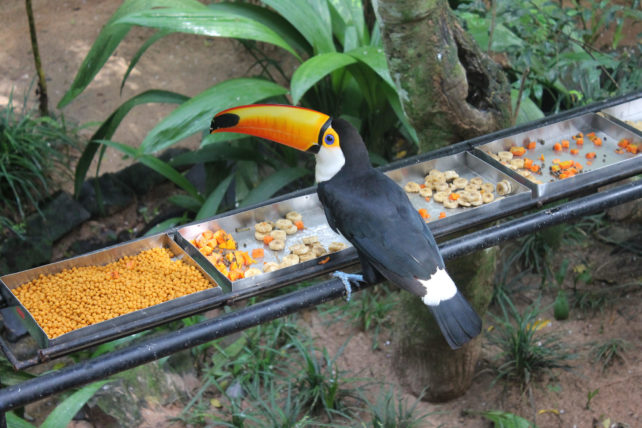 The next day, get ready to spend a few hours exploring the Argentinian side of the falls, where you need to walk more, but get to feel more immersed in nature. I found the scenery even more impressive on this side than on the Brazilian one.
In addition to the "basic" attractions (Lower Walk, Upper Walk and the iconic "Devil's Throat"), the Argentinian Parque Nacional Iguazú (in Spanish) comprises other trails, such as the wild Macuco Trail, a beautiful 3 hour walk.
After your visit, you can also stop by the Ice Bar on the way back to Foz do Iguaçu: it's basically a bar made of ice; very touristy and not my kind of thing, but many people like it.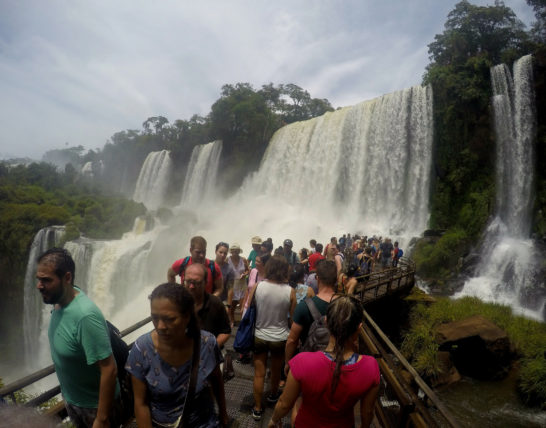 On the third day of your trip to Foz do Iguaçu, you can either go back to the Argentinian Park to explore it further or go visit other attractions in Foz, such as the Itaipu Hydroelectric Dam, one of the greatest works of modern engineering.
Itaipu is the largest hydroelectric plant in the world in terms of production, generating 71.3% of the energy consumed in Paraguay and 16.4% of what we use in Brazil. The dam is 8 km long and 196 meters high, the equivalent of a 65-story building. And the flow of only two of its turbines is equivalent to the average flow of the Iguaçu Falls. Quite impressive, right?
The main attraction there is the Panoramic Tour, a guided tour in a panoramic bus. But you can also go at night for the Itaipu Illuminated tour, or visit the Itaipu Biological Refuge, and even do a bike tour.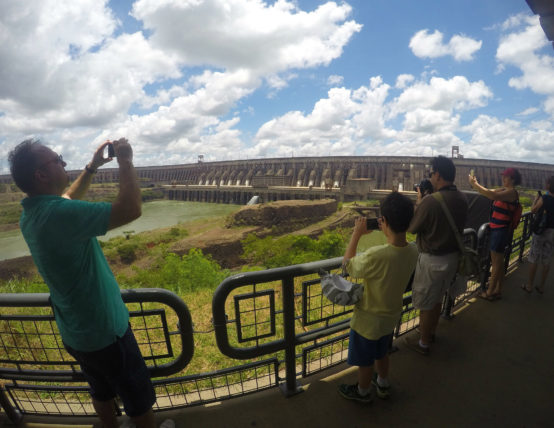 On the way there, you can also make a quick visit to the Buddhist Temple. It's not one of the most known attractions in Foz do Iguaçu, but it's nice. Entrance is free and it has some beautiful sculptures.
If bargain shopping is your thing, take another day to go across to Ciudad del Este, in Paraguay (just across the bridge at the border), or to the Argentine duty-free shop.
Other famous attraction in Foz do Iguaçu is the 3 Borders Landmark, where you can see three countries at one. It's located between the borders of Brazil, Argentina and Paraguay.
Feel like doing something different? If your budget is flexible, take the opportunity to go on a helicopter tour over the Iguaçu Falls or Itaipu. The tours are operated by Helisul.
Where to stay at Foz do Iguaçu, Brazil
My choice for accommodation In Foz do Iguaçu was Vivaz Cataratas Hotel Resort, which has a restaurant, bar, pool and free access to the water park located on site. The location is quite good: on Rodovia das Cataratas, close to the airport, to the Brazilian side of the falls and to Parque das Aves.
On the same Rodovia das Cataratas you will find other options in this resort style, such as Mabu Thermas Grand Resort, which is more sophisticated and has heated pools. I also heard very positive feedback on Wish Foz do Iguaçu, Bourbon Cataratas do Iguaçu Thermas Eco Resort and Recanto Cataratas. Another great choice is Sanma Hotel by Nobile.
If you can afford it, you can a have a one of a kind experience staying at the at the Belmond Hotel das Cataratas, which is located inside of the Parque Nacional das Cataratas (Brazilian side). That allows you to have full access to the park when it's closed for regular visitors.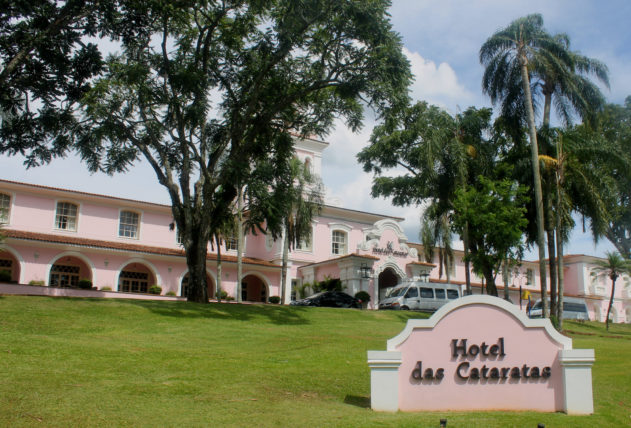 Would you rather stay in downtown Foz do Iguaçu? That's a good option for those who don't have a car and want to go out to eat or enjoy the nightlife. In this area, some good suggestions are Ibis Foz do Iguaçu, Bogari Hotel and Nadai Comfort Hotel and Spa. Another recommendation is Tarobá Hotel, which is close to the bus terminal that takes you to the waterfalls' park and Itaipu.
For those looking for a hostel, it's worth checking out the colorful Tetris Container Hostel, which has good reviews and excellent location.
It's also possible to stay on the Argentinian side, in the town of Puerto Iguazú, but accommodation prices are usually higher over there and the location is less convenient. You can take a bus from there to the falls, but it's more complicated to go to Itaipu or to Paraguay.
Some highly recommended hotels in Puerto Iguazú are Saint George, which is close to the bus terminal; Mercure Iguazu Hotel Iru, located in the middle of the forest; and the Iguazu Jungle Lodge, in a quiet location, but close to downtown. If you're looking for a hostel, check out Iguazu Falls, which has private and shared rooms.
To check prices and availability of all the accommodation options in Foz do Iguaçu, click here and select the dates and number of people traveling with you. If you find something you like, you can book it online, often with free cancelation.
How to get around in Foz do Iguaçu
In my opinion, the best option for moving around in Foz do Iguaçu is to rent a car. If you're in a group of up to five people, it'll cost you much less and you'll have the freedom to come and go as you please. That's what I did with my family, and it was great: you can easily get around the city using the GPS from your phone and it's also easy to get to Argentina.
To drive in Brazil and Argentina as a foreigner, you will need to have a valid driver's license from your home country and a valid passport. Please confirm this information before your trip.
If you want to go from Brazil to Argentina, you must issue the Green Card (Carta Verde) insurance. The company where we rented the car recommended an office at Av. Mercosul, 101. It's a small house, with a sign saying "Carta Verde" on the front. The document was issued immediately and was valid for three days.
I didn't go to Paraguay, but from what I've researched, it's not allowed to enter there with rented cars from Brazil, so the option is to go to the border and cross the bridge on foot. Check the entry requirements for your nationality.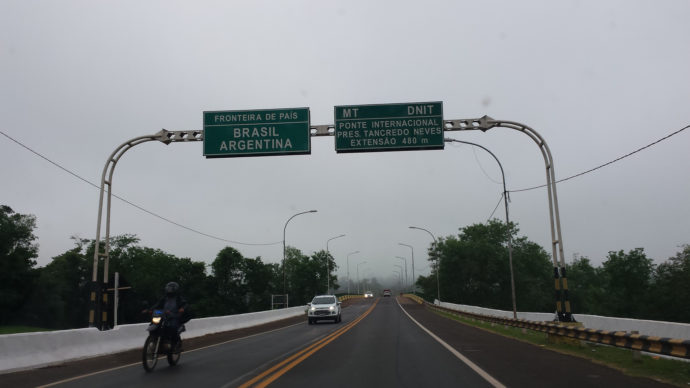 If renting a car is not an option for you, don't worry: it's easy to find agencies that offer all the tours, picking you up and returning you to the hotel. The advantage is that you don't have to worry about anything, and the disadvantage is that the itinerary is fixed.
If you want independence, but don't want or can't drive, you can also take a taxi (even to the Argentinian side). There are always taxis at the airport and many drivers will agree to take you around during your stay, at an agreed daily price. You can arrange with a driver to spend the day with you or to pick you up at a certain time, for example. Just be prepared to spend more.
And if you want to be independent and also save money, you have the good old option of public transport. With a little patience, you can take the bus to all the attractions mentioned above, including the Argentine side of the falls and Ciudad del Este, in Paraguay. Ask at your accommodation about the best routes and updated ticket prices.
What to pack for a trip to Foz do Iguaçu
For the waterfall parks, I suggest wearing light clothes, comfortable shoes, sunscreen and mosquito repellent. Other useful items are raincoats and waterproof cell phone protectors, which are usually sold at the entrance to the Brazilian park.
If you plan on going on the Macuco Safari, take clothes that dry quickly, bathing suits to wear underneath, rubber shoes or flip-flops ,waterproof camera (if you have one, like a GoPro) and a quick drying towel. That is one wet ride!
Did you like these tips on what to do in Foz do Iguaçu, Brazil? Do you have any questions? Ask me on the comment section below!