Work exchange programs: best websites to volunteer abroad [and discount]
Accommodation is often the biggest expense when travelling. However, you can reduce costs by searching for free stays on platforms such as Couchsurfing, or by working a few hours a day in return for a place to sleep and other benefits, such as meals and classes. All you have to do is go on work exchange programs.
Besides from being a cheap way to travel, a work exchange program also gives you the opportunity to practice languages, learn new skills, meet people, exchange experiences and have fun. That's why I love to travel under that scheme, and have done so several times.
But when I talk about this, people often ask it it's absolutely necessary to use a work exchange website. And the answer is no. There are many ways to do it informally, like getting to the place and asking for a job pointblank or contacting acquaintances.
However, the work exchange sites I list below facilitate this process, helping travelers and employers to meet and match. In addition, they make the rules very clear, which helps to avoid exploitation and misunderstandings. Plus, some of them even offer extra benefits, as in the case of the Worldpackers' insurance.
But what websites are these and what's the difference between them? In this article, I'll present the basic features of the main websites which offer work exchange opportunities around the world.
You might also want to read:
Step-by-step guide for a successful work exchange
How to apply for a volunteering job at hostels
How to use Worldpackers discount coupon
Is Worldpackers safe? User review and safety tips
Main websites for work exchange programs
Worldpackers
"Traveling changes people. People change the world", says the Worldpackers website. This is the most recent one among the work exchange sites I'll mention here: it was created in 2014.
But I chose to talk about them first because I know the team personally and believe in their commitment to the quality of the users' experience, and also because I find it the most user friendly of these websites.
Furthermore, I'm a fan of the philosophy they reinforce: democratizing meaningful travel experiences through a collaborative attitude, in which all parties share experiences and help each other.
You can browse the work exchange opportunities on the website for free, and only need to pay a fee when you're ready to apply for one or more placements. Photography, events organization, social networks, language classes, gardening, reception, tour guide and bartender are some of the options.
Clicking on "Volunteer opportunities", you'll see a series of hosts and information about the type of work they are looking for, the number of hours of work per day, the minimum stay, the days off and what they offer in exchange (accommodation, meals, laundry, etc.). You can then apply to the places that interest you and wait for the host to contact you, when you can discuss further details.
In general, the minimum period of stay for the volunteer is two weeks, with about 20 hours of work per week and one or two days off, but each placement has its own rules. Therefore, it's important to evaluate the requirements and benefits very carefully.
To apply for a placement and confirm the trip you just need to subscribe to the annual plan, which costs 49 USD (or 39 USD with my discount coupon JANELASABERTAS, or by simply clicking here). The plan entitles you to confirm as many trips as you want within a year, but even if you make only one short trip the investment is already worth it.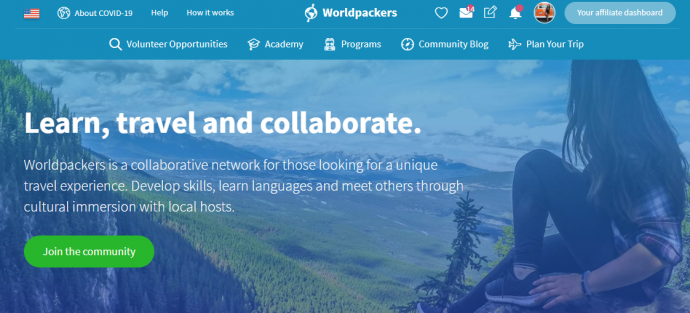 Helpx
Created in 2001, Helpx works much the same way as WorldPackers, mediating the exchange of four to six hours of work per day for accommodation and food. One of the differences is that because it has existed much longer, it has more hosts, especially in places like farms, ranches and hotels.
In order to get access to all the information about the hosts, including the reviews about them, and to contact them directly, you need to subscribe to a two-year plan that costs 20 Euros. Benefits for volunteers can also include free internet and activities such as horseback riding or cycling, yoga or English classes etc.
I find the website quite outdated, but it has some interesting features, such as being able to post a message saying that you're looking for fellow travelers who want to go to the same destination as you. For more information, visit the FAQ page.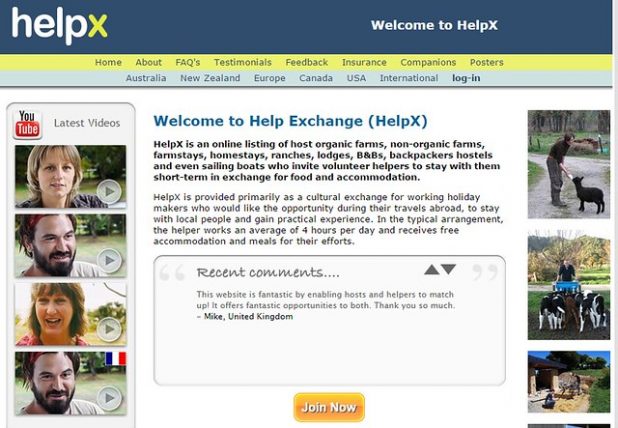 WWOOF
WWOOF stands for Worldwide Opportunities in Organic Farms, a network of national organizations that promotes work exchange programs in small ecological farms in various parts of the world. It's not one of the "generic" work exchange sites, with all kinds of placements, but it's great for those who want to focus on that kind of experience.
I've had a work exchange experience that included taking care of a vegetable garden and I loved being able to grow my own food. After all, in big cities, that's not the usual experience, right? Generally, those who use WWOOF share a very interesting philosophy of life too.
Another big difference from this work exchange website to the others, though, is that there's no international WWOOF membership. Each country has their own website and subscription fee, as explained in the FAQ section.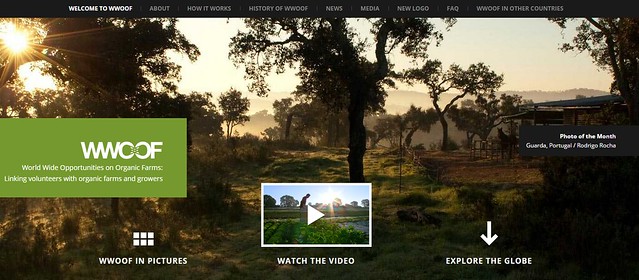 Workaway
Workaway is another good website for work exchange programs, which I used once in France. It has a very varied database, with families, individuals and organizations of various types, ranging from hotels, hostels, inns and resorts, to parents looking for babysitters, as well as diving or fishing centers looking for helpers, for instance.
You can enter the country and the activities you are willing to do in the search tool and select the options you're more interested in. There are also some helpful filters that allow you to see only the most recent placements, last minute options, updated ones or the ones with feedback.
Like the other websites, to become a member you must pay a subscription. But before registering you can already take a look at the list of people and establishments that are looking for volunteers.
When you've chosen a host that interests you, you can contact them direct by email. I have traveled using Workaway and loved it, but the site is not the most user-friendly and there are so many placements that sometimes it's hard to choose a place that really seems reliable.
Another advantage of Workaway is the "Find travel buddies" feature, which allows you to publish the destination and dates of your trip and search for people to join you.
Currently, Workaway's annual fee is USD 42 per person per year, or USD 54 if you sign up with a partner or friend, as long as you travel together.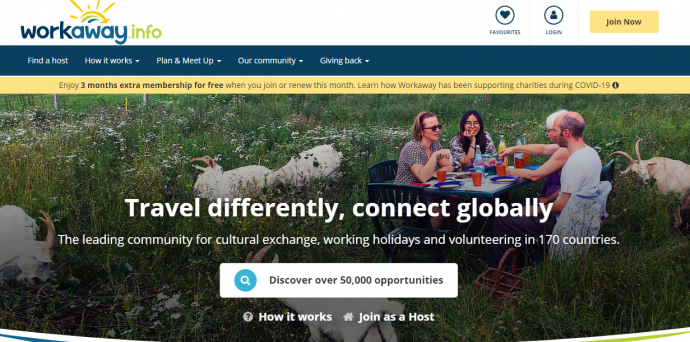 What else do you want to know about work exchange programs? Ask me in the comments section!
Disclaimer: I get a small commission from every Worldpackers membership purchased with my promo code or link, which is one of the ways I monetize the work I do in this travel blog. I only recommend products or services that I have already used and approved. :)