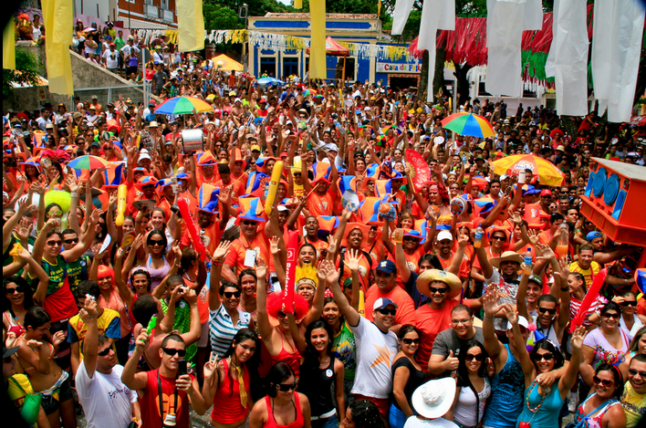 Recife and Olinda: a guide to Brazil's best Carnival
Rio is an amazing city; probably one of the most beautiful in the world. But if you want to get a taste of Brazil's best Carnival, forget about it and come to the Northeast. Recife and Olinda – the capital of Pernambuco and its neighbor city – will astound you during these blissful days of February (ok, sometimes March, but you get the point).
(Pra os brasileiros: este post é uma adaptação do texto "Carnaval de Olinda e Recife: Pequeno guia de sobrevivência", que escrevi em português).
In these two cities, you'll find the most multicultural, most colorful and cheapest Carnival in Brazil (if you think I say this only because I'm from here, check out this article). We usually say that after Christmas it's already Carnival, and that the year doesn't really begin until this hedonistic party is over. So don't be surprised if you come here this time of the year and notice there's something different with the people you meet.
I dare someone who's been to Olinda for Carnival not to get goose bumps while watching this video:
Looking for a place to stay? Click to book the best hotels, B&Bs, hostels and flats in Recife and Olinda.
From January on, people start going to the "prévias" – smaller parties that emulate the real ones before the actual Carnival, because we just can't wait. Around this time, most people also start browsing through dozens of costumes and colorful clothes that stay deep inside their wardrobes during the rest of the year and go to the city center to buy stuff that are missing or material to make new creative costumes (and when I say creative, I mean it).
Because instead of a religious party, for most people here Carnival is this magical time when it's totally ok to dress up weirdly, fill your hair and face with glitter, wear shoes you don't mind throwing away on Ash Wednesday (such a sad day), become BFFs with total strangers and start deep love affairs that last the time of two frevo verses.
So if you like partying and want to immerse yourself in our rich culture, you should definitely spend Carnival in Recife and Olinda. You'll hardly find a similar event somewhere else, with all the joy and excitement that takes hold of anyone that's part of it. But truth be told, it takes a good deal of strategy to enjoy everything this party has to offer and still get to Ash Wednesday in one piece. So here's some basic information for those who will come here for the first time :)
How it works:
Are you completely illiterate in terms of Carnival in Recife and Olinda? Then you should know that our greatest pride is to have a democratic party, with hundreds of free attractions day and night for all tastes – although the private parties (called "camarotes") are becoming more and more common every year, unfortunately. Nevertheless, the beauty of it is that during those days you can always find at least one small impromptu dancing group, as long as there's some musical instrument or simply people willing to sing to the rhythm of frevo or maracatu.
Even though you can already find some great parties (the aforementioned "prévias") and band rehearsals that are open to the public since January, the official start is on Saturday, that we call "Sábado de Zé Pereira", with the Carnival block/parade/marching troupe (or simply "bloco", as we call it) Galo da Madrugada. Represented by a huge rooster that's built in one of Recife's main bridges, this "bloco" is named in the Guinness Book of World Records as the biggest carnival parade in the world, gathering an average of 2 million people in the city center.
I have to confess that the simple thought of this huge crowd around me gives me claustrophobia, but if you're like me, don't worry: Olinda, a colonial town of winding alleys and hills, is also quite busy during the day, but is more "doable". A very iconic part of Olinda's Carnival are the parades of giant puppets that whirl to the rhythm of frevo, the most famous of which is the Midnight Man, created in 1932. But if you miss it, it's ok: there are hundreds of other cool and more recent "blocos" that will pass by you one way or another, since almost every group of friends creates their own.
After the sunny day in Olinda, it's time to gather all your energy to start the evening in Recife Antigo (Old Recife), the most historical part of the capital city, where you find several stages with free concerts – the biggest one being at Marco Zero, which receives local and national attractions -, together with a lot of confetti and a bunch of happy people. Chances are you'll end the evening (or start the day, if you're strong enough) eating some amazing street food that you, as a foreigner, have probably never seen before.
For those who want to enjoy something "alternative", there are the "decentralized stages", which spread throughout the city so that people from different areas can enjoy the party close to home. And there are also many "blocos" that go out in Recife Antigo and other neighborhoods during the day, some of them specific to entertain children.
And now for the basic survival tips:
– Get familiar with the main Carnival songs. After listening to each of them 58 times a day, you should learn them by heart anyway, even if you don't understand what they mean. So it really doesn't matter if you can't, but it's nice to get to the party already singing along to some of the main stuff. Some examples are the beautiful "Hino do Elefante" and "Madeira que cupim não rói".
– Wear comfortable clothes and closed-toe, comfortable and not too beloved shoes – after all, it's likely they will be destroyed by the end of Carnival.
– Eat well before leaving home, since drinking on an empty stomach is not advisable, but try to avoid heavy foods.
– Keep your money and your ID in a safe place, preferably inside your clothes, in one of those travel money belts or something similar. If possible, take money in small bills and keep them in more than one place. You don't want to take a 5 reais bill to pay for a beer, drop the rest and don't realize it until you need it for more beer… (Advice based on true events :P)
– If you're a woman, you can also take some "emergency items" in a very small bag, like a hairclip, paper handkerchiefs (because the bathrooms can offer an unpleasant surprise), sunscreen… And whether you're a guy or a girl, it's highly advisable to take some condoms too, because you'll never know if you'll fall for that hot Wolverine or that charming Snow White.
– Take an old cell phone with you instead of your "real one", if possible. Losing your iPhone 6 as you get squished between people won't be the highlight of your day.
– It doesn't matter if you're late for that first "bloco" or if you've just waken up in Snow White's place: don't forget to wear sunscreen, unless you want to look like a shrimp by the end of the day.
– Give preference to buses when going to Olinda or Recife Antigo. Apart from the regular bus lines, a special bus system is usually put in place: the Expresso Folia, that leaves from a few malls around Recife.
– Try to leave home early, together with the group of people you're going to hang out with, and avoid trying to look for other friends while you're there.
– Stablish a "meeting point" with your group, just in case someone gets lost. Your phone may not work, or your friends may not hear your calls because they're busy having too much fun…
– Avoid walking against the flow of the "blocos". It's easier to wait for them to pass, or to simply follow them (I recommend the later.
– If you're drinking beer, try to share it with a friend, instead of buying a whole can for yourself. It takes strategy to deal with the amazing speed with which the beer heats up, especially with the big cans that are sold in the streets. If you get the chance, it's good to buy something that's popularly called a "camisinha" (condom), a foam wrap that preserves the beer's temperature and is sold in the streets. Btw, try to remember to drink some water too.
– You'll probably come across some strange looking drinks with weird names like "axé de fala", "Pau do Índio" and "jurubeba". They're made of cachaça (a very "Brazilian" spirit) and mixed with various herbs, resulting in sweet and strong mixtures, so be warned: drink them at your own risk! (You should try them, but don't tell anyone I said this).
– Beer + beer + beer + jurubeba + water … You know the deal: even with all the sweat, you'll still have to hit the bathroom a few times. And sometimes that's no easy task. So when faced with a fairly decent bathroom, you should maybe use it, even if you're not dying to go. At a time of despair, the queuing time can turn into an eternity …
– If you're part of a couple, try not to stress out about the likely approaches of members of the opposite sex – or the same sex, of course – towards your boyfriend or girlfriend. Carnival doesn't go well with jealousy!
– Drink beer, hug your friends, make new friends, jump around, dance and have as much fun as you can :) This will be an unforgettable experience \o/