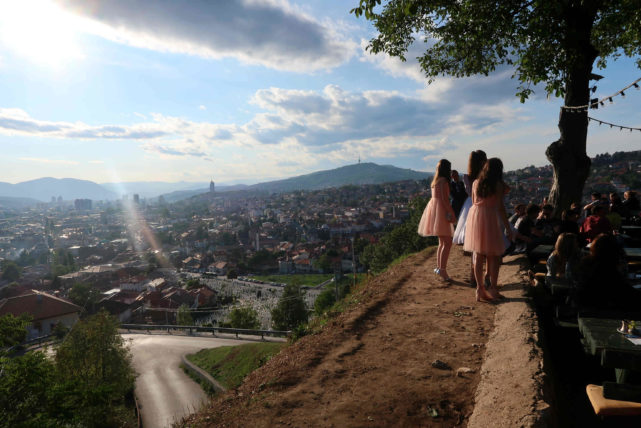 10 reasons to visit Sarajevo
For many people, the word Sarajevo leads to an immediate association: war. Whoever lived in the 1990s probably remembers the Siege of Sarajevo, the longest siege in the history of modern warfare. More than 60 percent of the buildings of Bosnia and Herzegovina's capital city were destroyed during the period, including some that were targeted because of their great historical and cultural significance, such as the beautiful public library. Thousands of people died, and hundreds of thousands fled. In 1996, with the end of the Bosnian War, the city was destroyed. And its population, I can only imagine, traumatized.
But despite being recent, this bloody past is, indeed, in the past. Yes, marks of the war are still visible. Both figuratively and literally, since the government lacks investment to restore all the buildings full of bullet holes or partially destroyed. But at the same time, the energy of the city is so strong that one can almost touch it. Sarajevo has long been a safe and welcoming place for visitors, and there's no doubt it deserves to be known.
If you're worried, let me assure you: I felt safe walking alone at night, both in the city center and in the suburban neighborhood where my AirBnb was located. The city center, by the way, is very modern, with several international chain stores. And it's not hard to find people with some notions of English to give information when needed.
Public transport works well, although buses aren't frequent, which is partly explained by the low demand of the population: there are less than 400 thousand inhabitants, and while I was there the buses were always half empty. Still, it's very easy to get around, and if you stay near the old town you can do almost everything by foot.
Want more reasons to visit Sarajevo? I'll give you ten:
1. The Baščaršija
I still haven't met anyone who would dare to disagree: the most charming part of Sarajevo is the Baščaršija, the historical and cultural center of the city. Located on the banks of the river Miljacka, which crosses the city, this region gathers mosques, cafes and many craft stands, as well as the famous Pigeons Square, where several of these flying rats make children happy (watching them run around the birds is quite entertaining, btw). It's a great place for those who want to do some people watching, since the Baščaršija isn't only frequented by tourists, being one of the favorite spots for locals.
It's also perfect for those who want to eat something typical and drink Bosnian coffee (more about this later) and specially for those who are in the mood of doing some shopping. Among scarves, jewelry, bags, decorations and a thousand other things, it's easy to spend a few hours (and some Bosnian Marks, the local currency).
During the Ottomans time, each street was dedicated to a profession, such as shoemakers, locksmiths and leather workers. Nowadays it's still possible to visit Copper Street, full of utensils made with this material.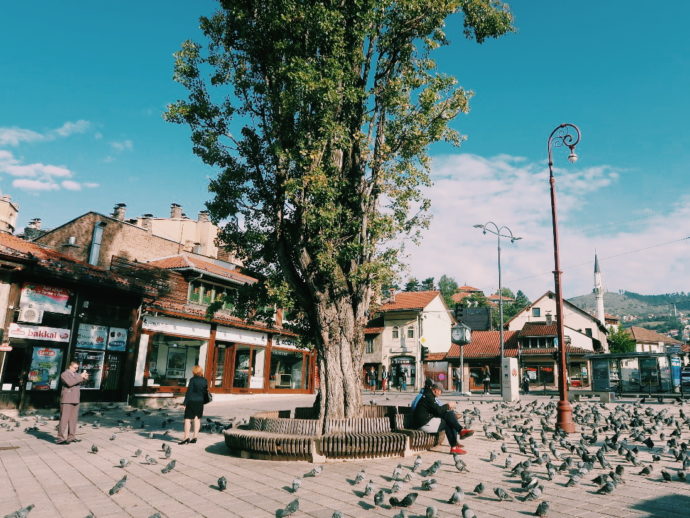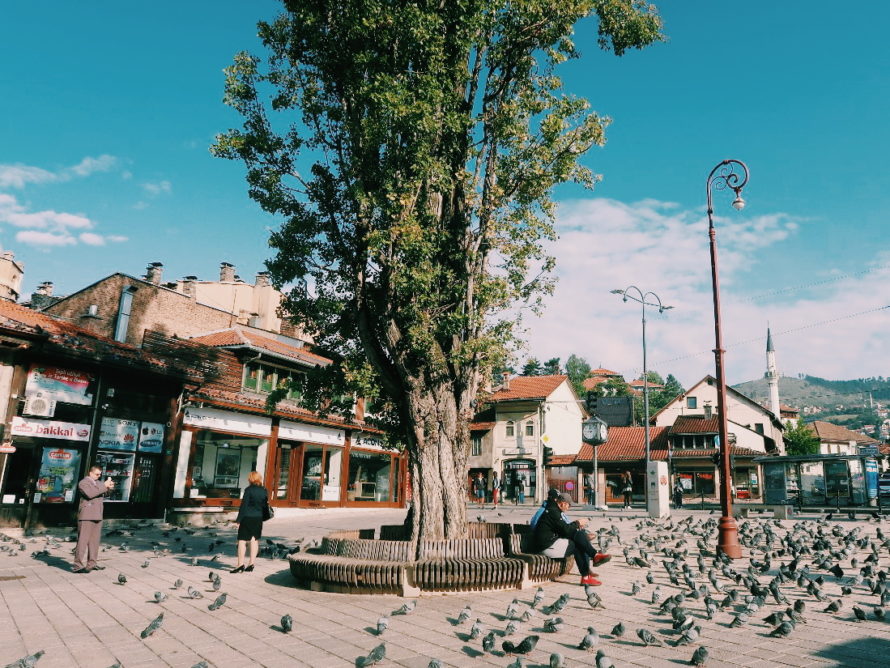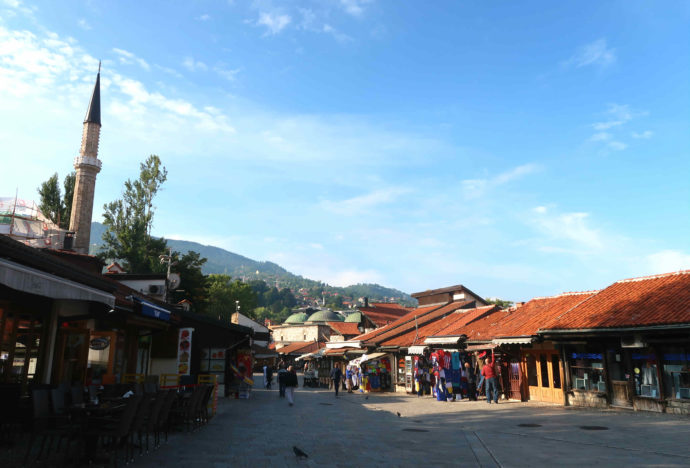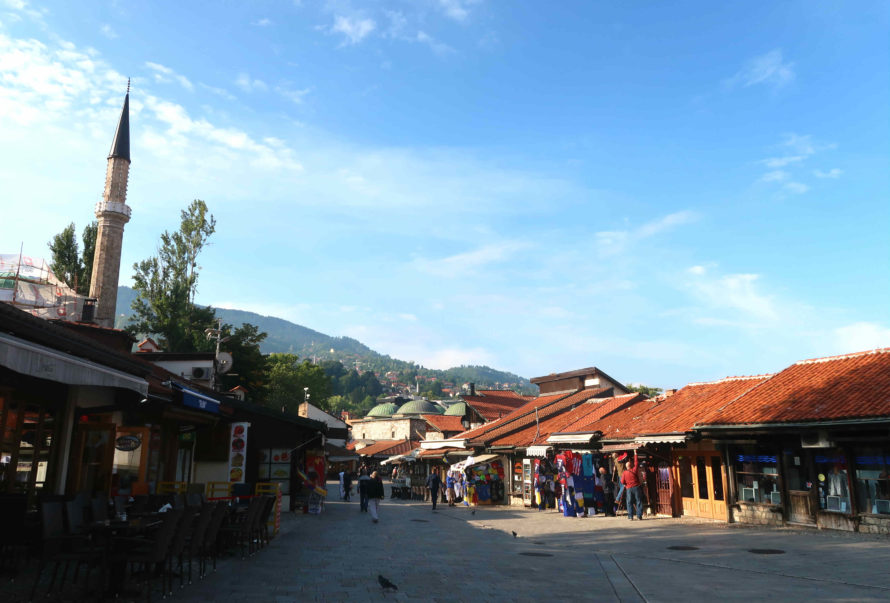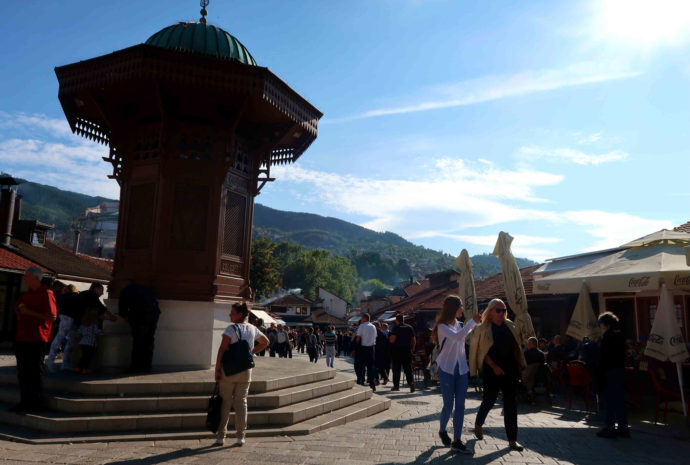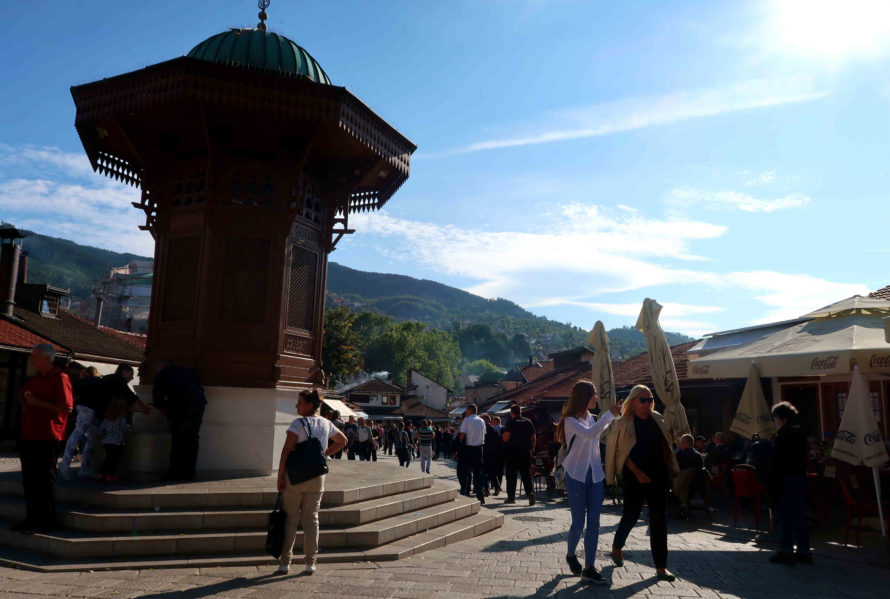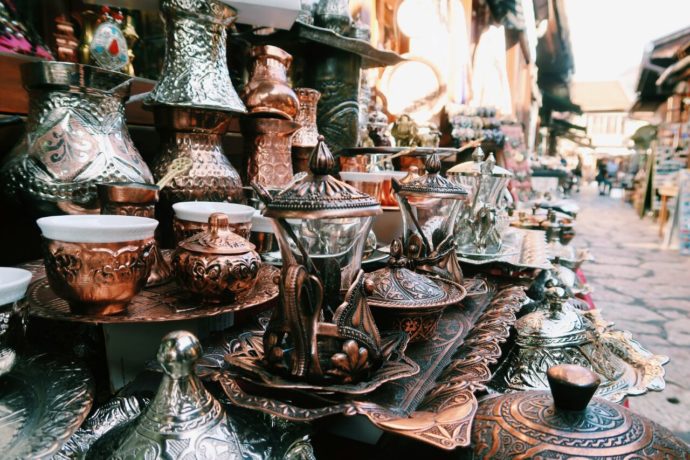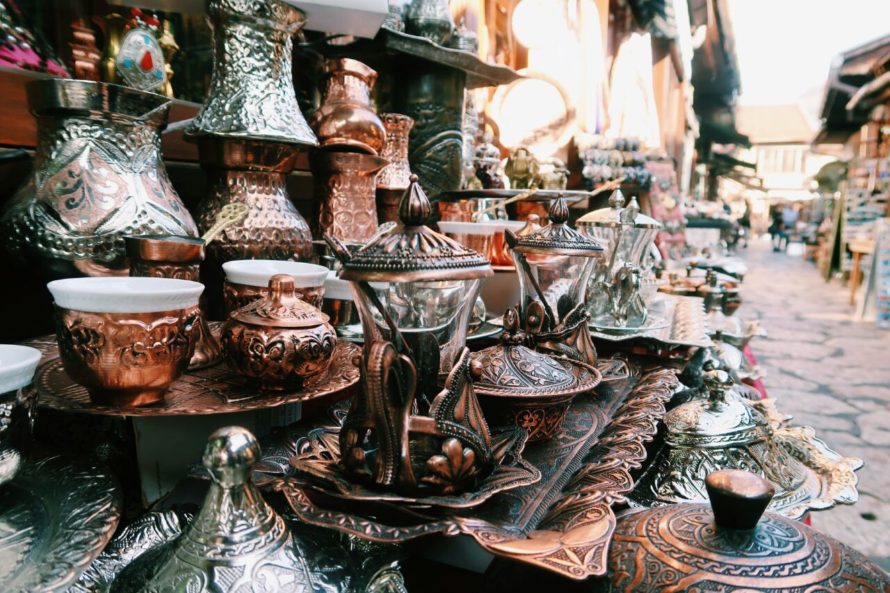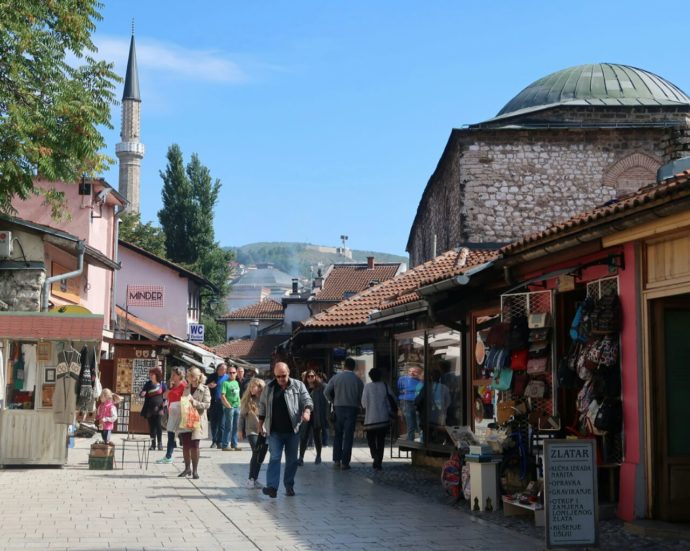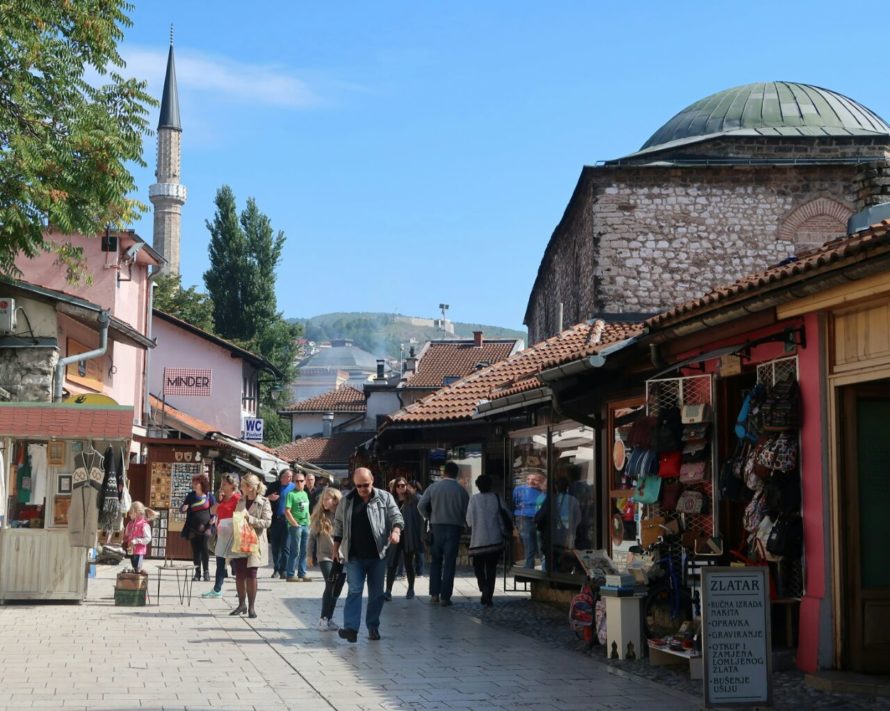 2. The Ottoman influence
Founded in 1461 by the Ottomans, the city still preserves a strong Turkish influence, which can be seen in its gastronomy, architecture, music and some cultural habits. And, of course, in the many items sold in the bazaar of Baščaršija. ;)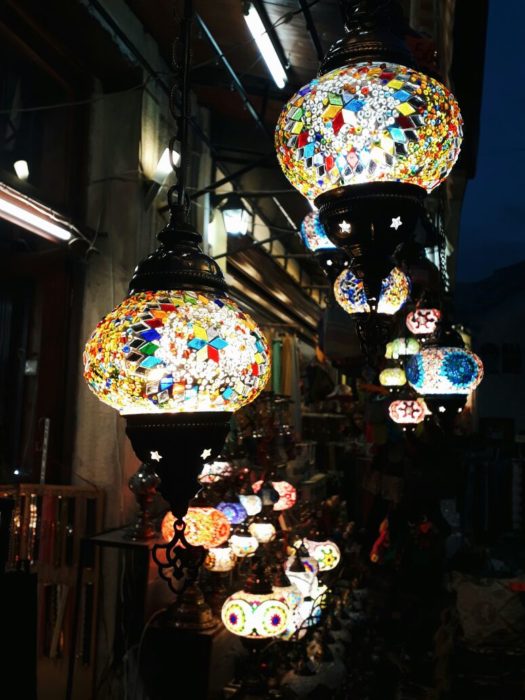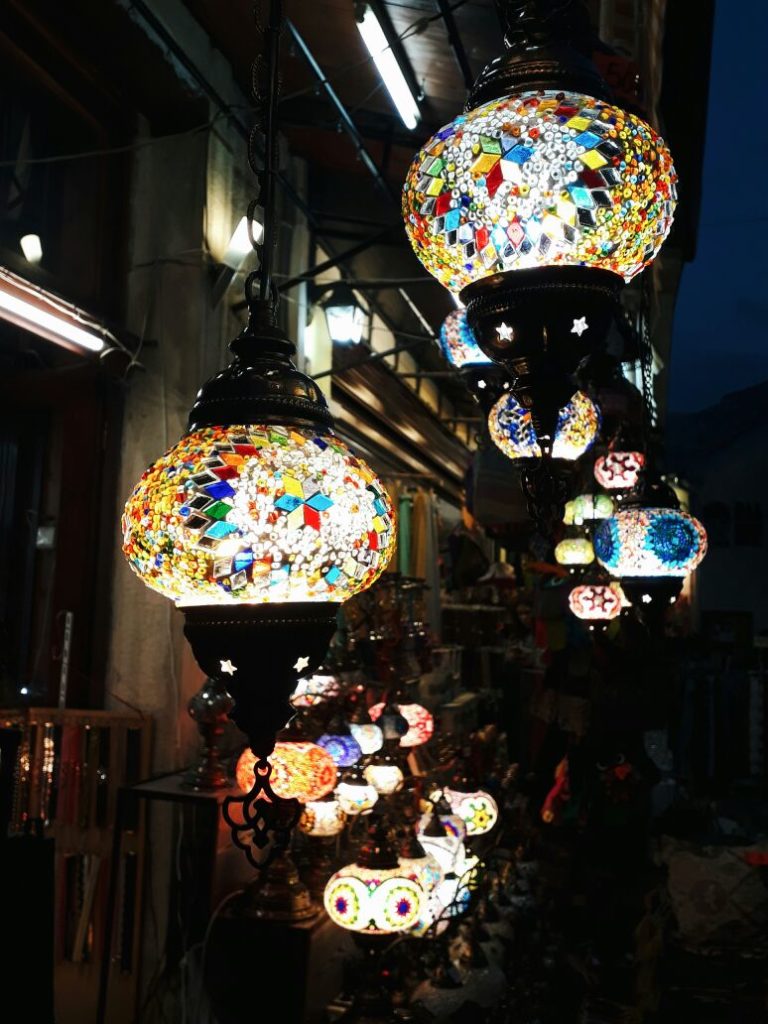 3. The culture of cafes
Sitting on a low bench on a sidewalk for hours while having coffee (kafa) in the company of friends, watching time go by. This ritual is one of the local customs more easily perceived by visitors, and certainly one of my favorites.
And it's not any coffee: the Bosnian coffee (bosanska kahva) is influenced by the centuries of Ottoman domination in the region. It's thick and strong, and served in that mini vase you can see in the picture below (the dzezva), with the powder in the bottom. You're supposed to pour it in the small ceramic cup that comes along with it, being gentle enough so you don't get the powder in your cup.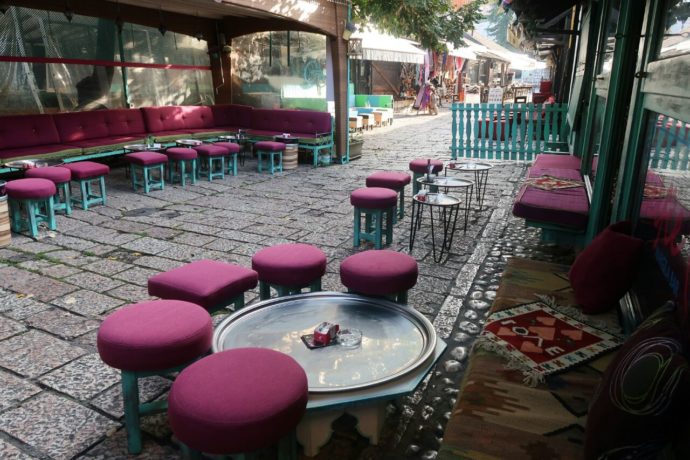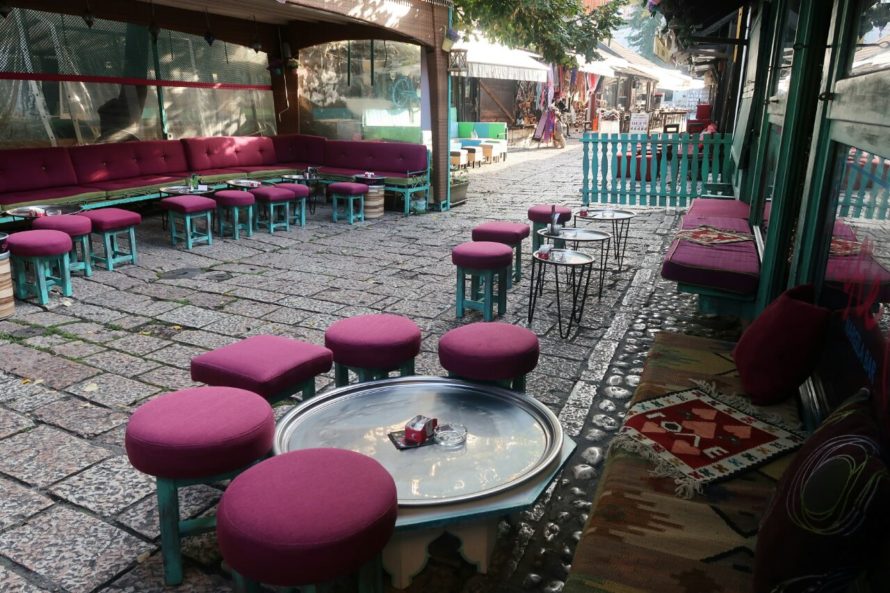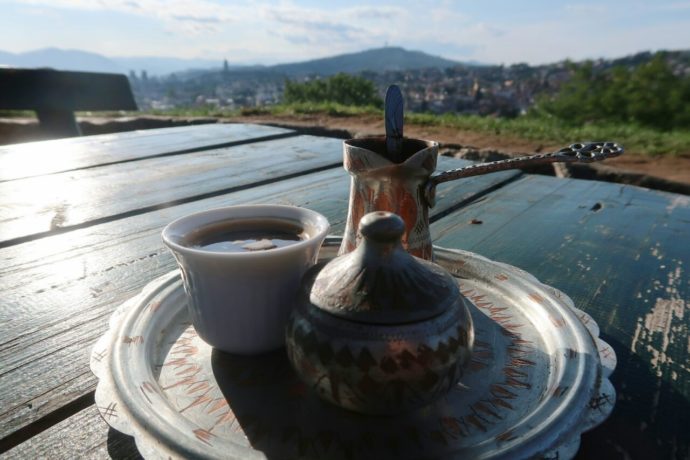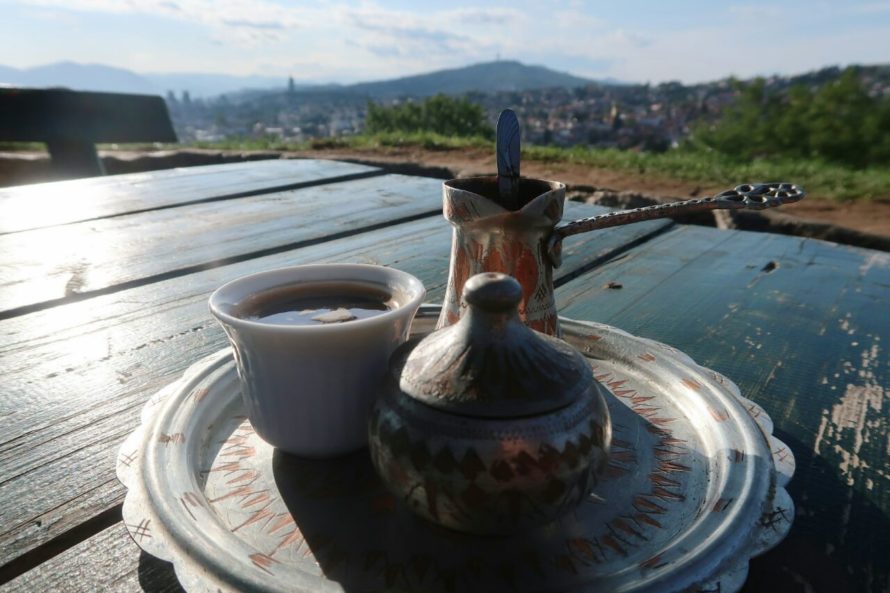 4. The hills
The city is built in the Sarajevo valley, a small depression surrounded by hills. These mountains were once a favorite spot for war tanks and snipers that took advantage of the privileged position to shoot towards the valley. Nowadays, they create a magnificent backdrop around the capital, with their beautiful pine trees, and also serve as a leisure area for the population.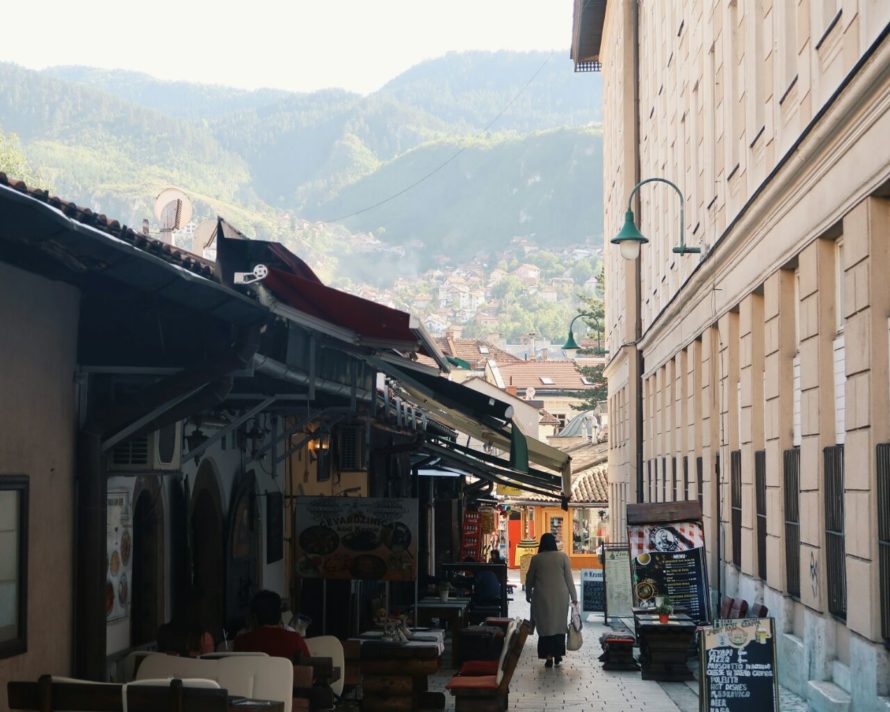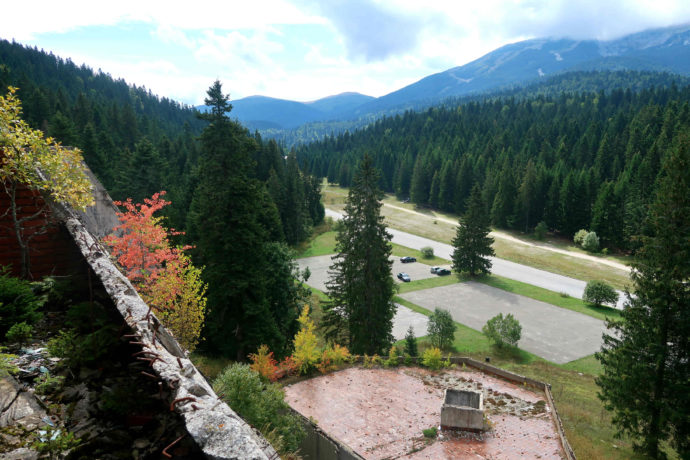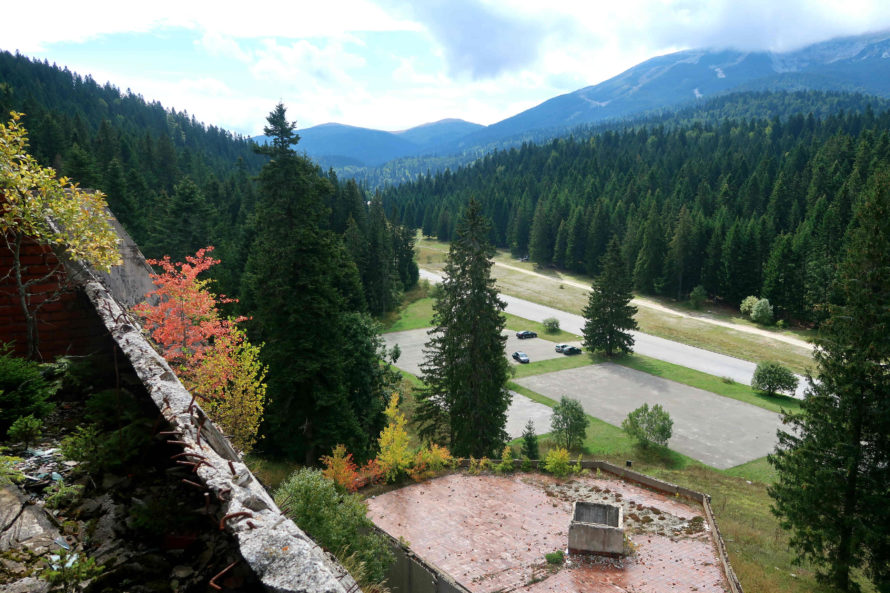 5. The views
I love viewing places from above and absorbing a new city from a different perspective. If you're anything like me, you shouldn't miss out on the several opportunities to see Sarajevo from above. Whether it's from up in its hills, which can be reached by car, or walking up to the Yellow Bastion (Žuta tabija), the White Fortress (Bijela tabija) and the modern Avaz Tower. Between modern and traditional buildings, historic icons, residential areas and a beautiful sunset, there's no way you won't fall in love with Sarajevo.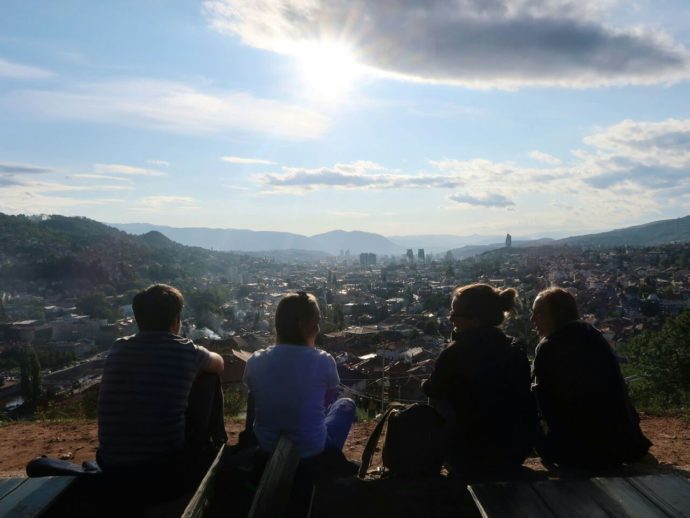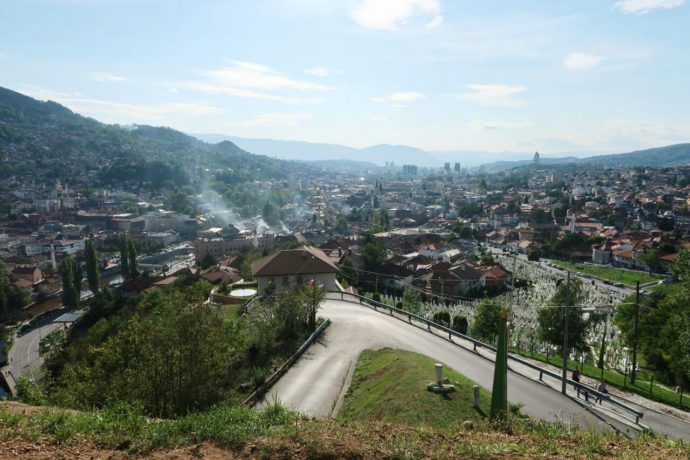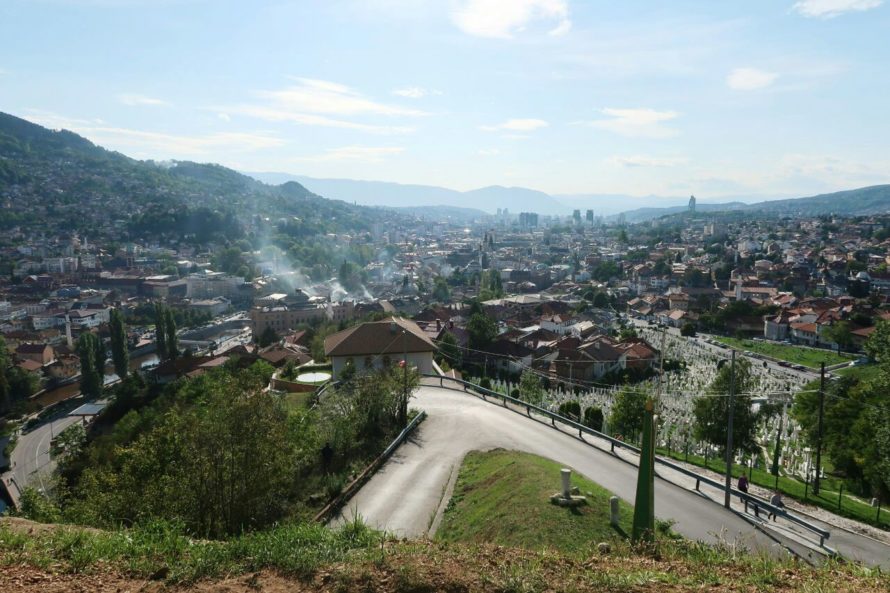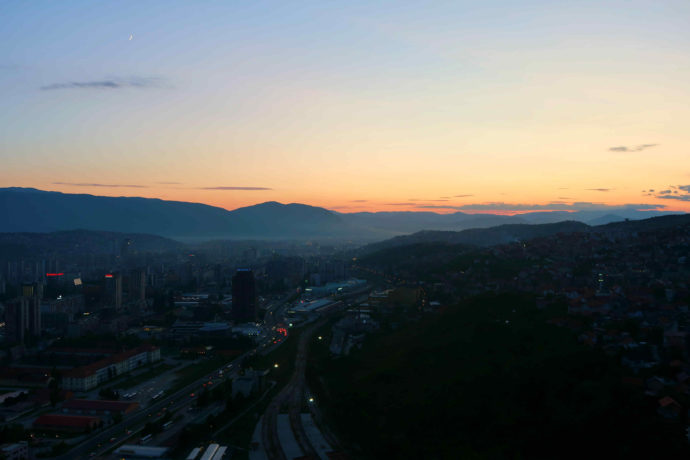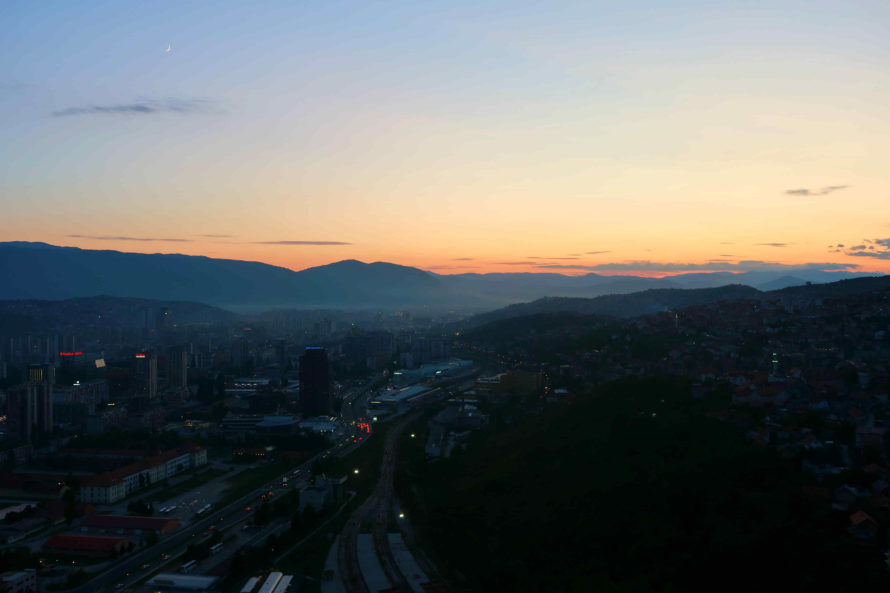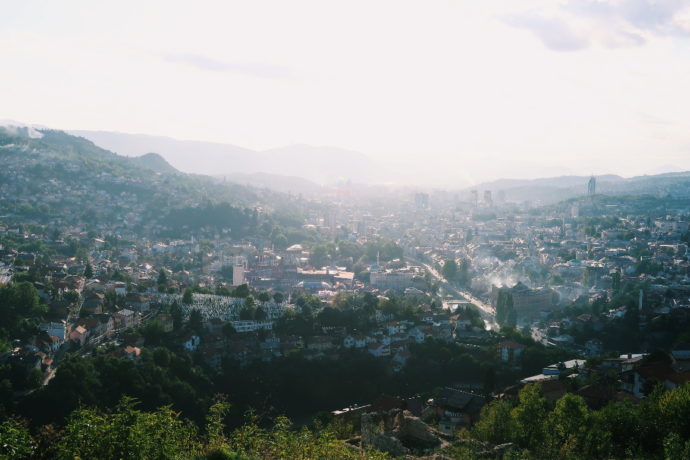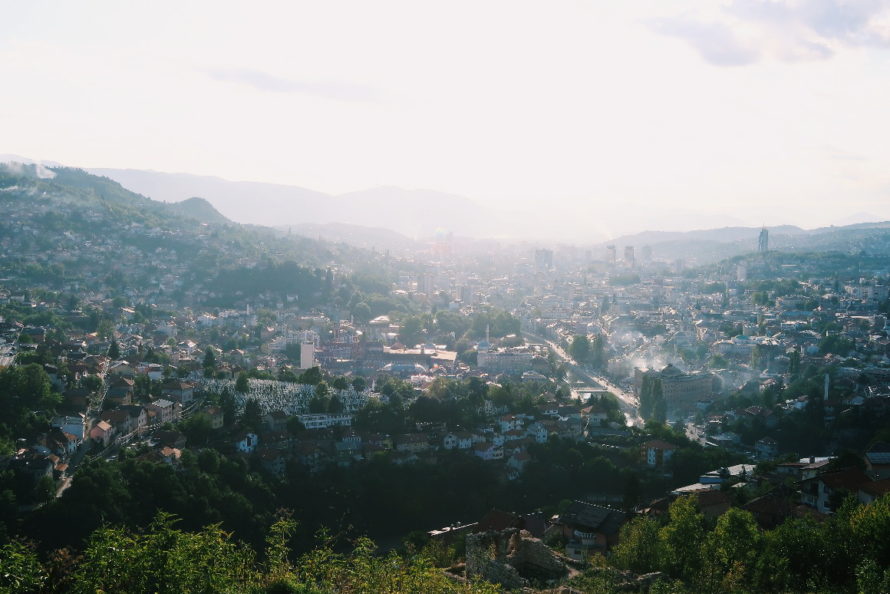 6. The history
The city is, of course, a must-see for those interested in better understanding the causes and implications of the Bosnian War and the siege of the capital. Some museums in the city offer interesting perspectives on the conflict, such as the War Childhood Museum, which gathers testimonials of young people who grew up during this period, and Galerija 11/07/95, which displays pictures of the terrible genocide in Srebrenica, where more than 8.000 people were killed. One cannot leave these places without feeling touched.
Aside from visiting museums and walking aimlessly, admiring the buildings from the Ottoman period and the Austro-Hungarian era, I recommend taking a guided tour to better understand what's behind each place.
I learned a lot from the "Complete Sarajevo war tour" offered by Toorico Tours, which takes the visitors to crucial places such as the Tunnel of Hope. This underground tunnel was built by the Bosnian army during the siege, so as to connect the city, which was cut off by Serbian forces, to Bosnian-held territory on the other side of Sarajevo Airport.
The tour also goes up some of the mountains around the city and stops at the remains of the structures used in the 1984 Winter Olympics, which were left abandoned but still look impressive.
For a broader perspective, I recommend also taking a free walking tour, where you'll visit more ancient episodes of the country's history, such as the other historical fact that you probably associate to Sarajevo: the murder of the Austro-Hungarian archduke Franz Ferdinand, which triggered the First World War.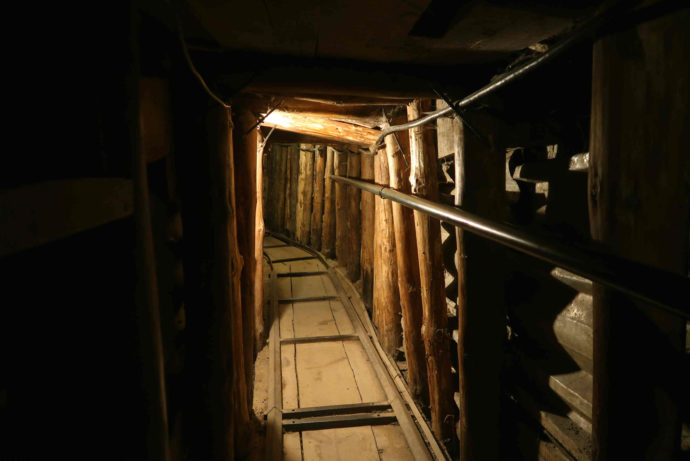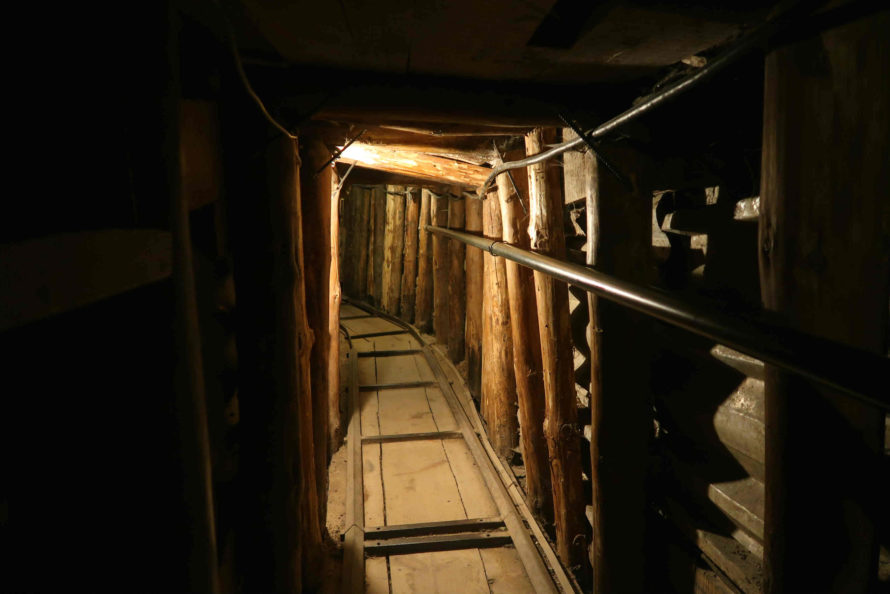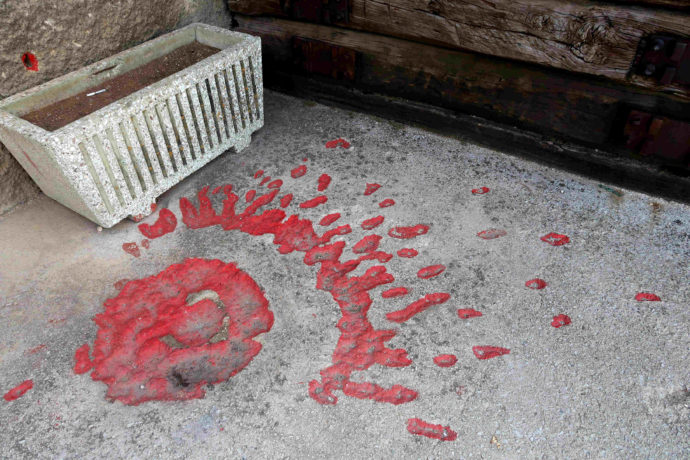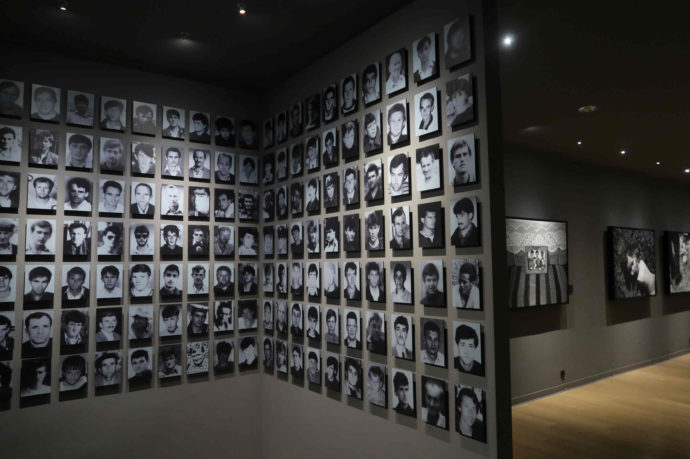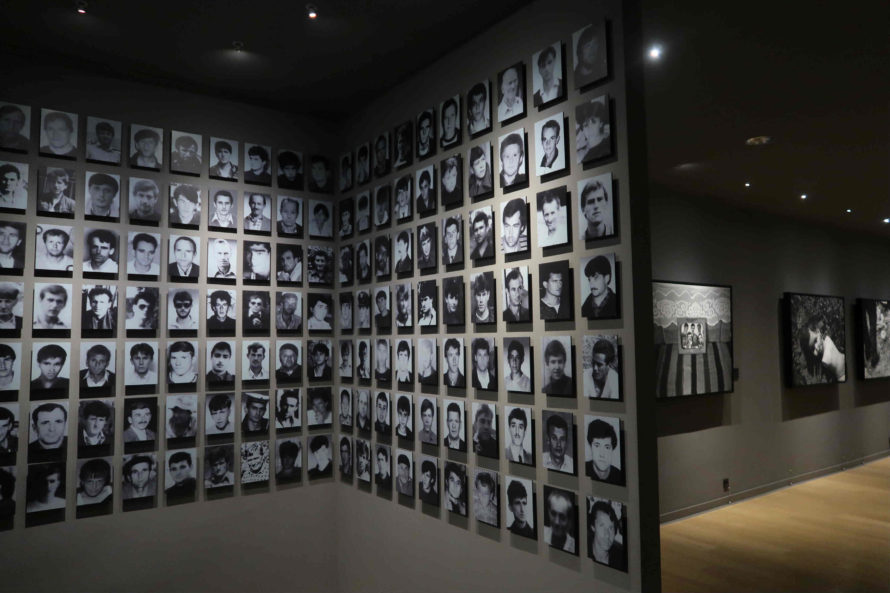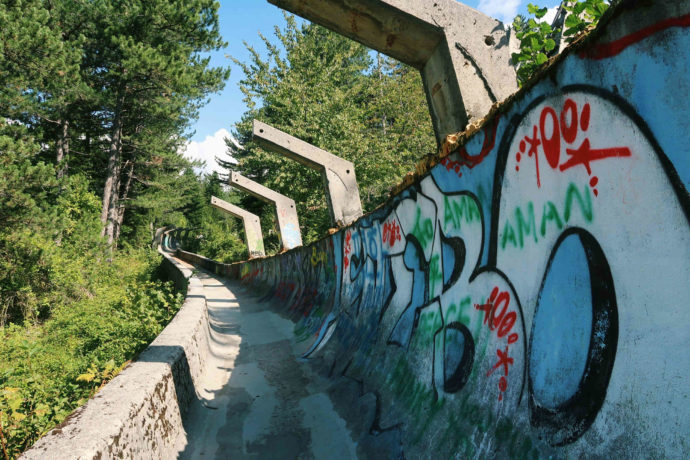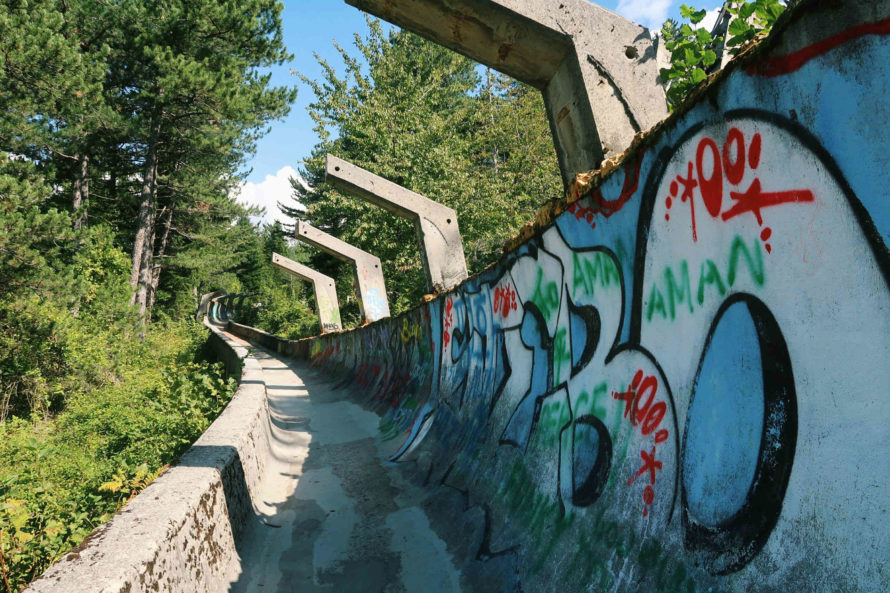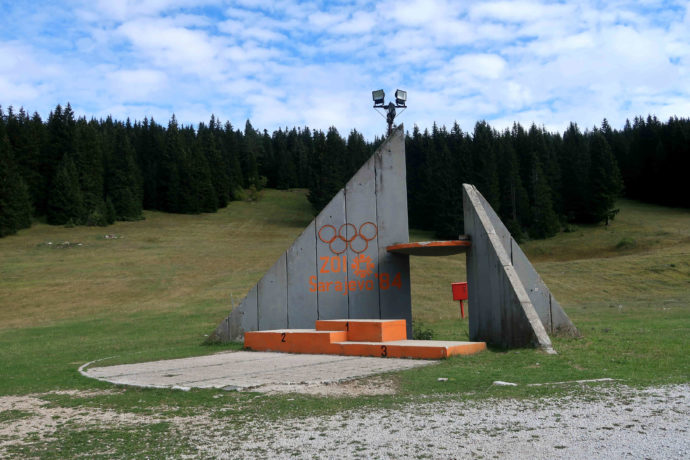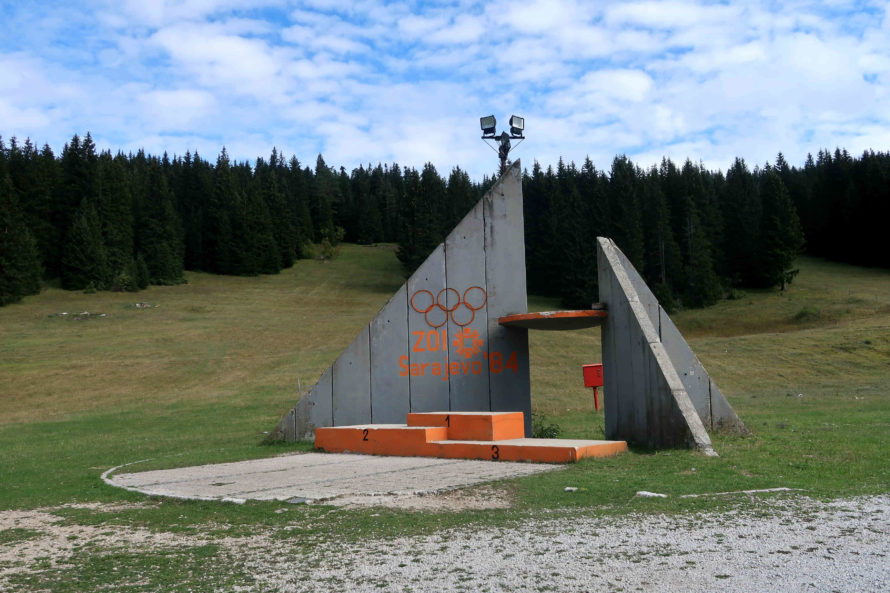 7. The Bosnian cuisine
Meat, vegetables, stews, spices, delicious bread, an amazing variety of sweets… The Balkan cuisine is a delight, and that includes Sarajevo. In addition to my beloved bureks (baked pastries, usually filled with cheese, spinach or meat), I highly enjoyed trying the moussakas (an eggplant-based dish which resembles a lasagna and is typical of Greece and Turkey) and the Bosnian stews (meat stew made with tomatoes, onions, carrots and several other vegetables).
Being a huge fan of bread, I was also happy to find out they make excellent ones in this region, usually serving them together with hot dishes in restaurants (I must confess I took them home to eat at dinner on more than one occasion).
Not to mention the cevapi, a kind of ground beef sausage served with onions and traditional dairy called kajmak. And, of course, the many vegetables stuffed with meat. Yes, meat and meat and more meat: I think it isn't very easy for vegetarians and vegans to eat local Bosnian cuisine, but that doesn't mean it's impossible: I did see some dishes based on vegetables and grains.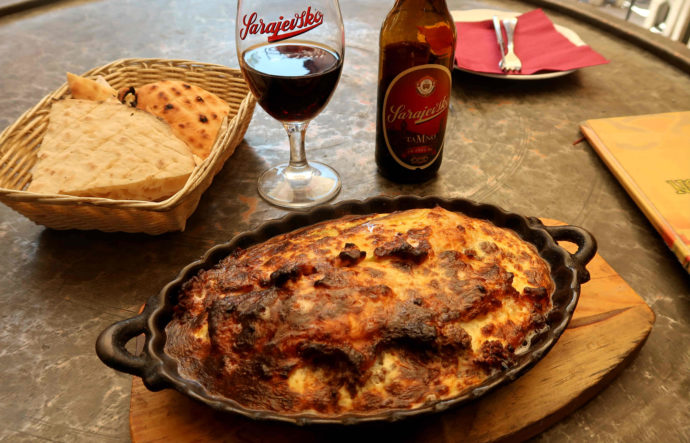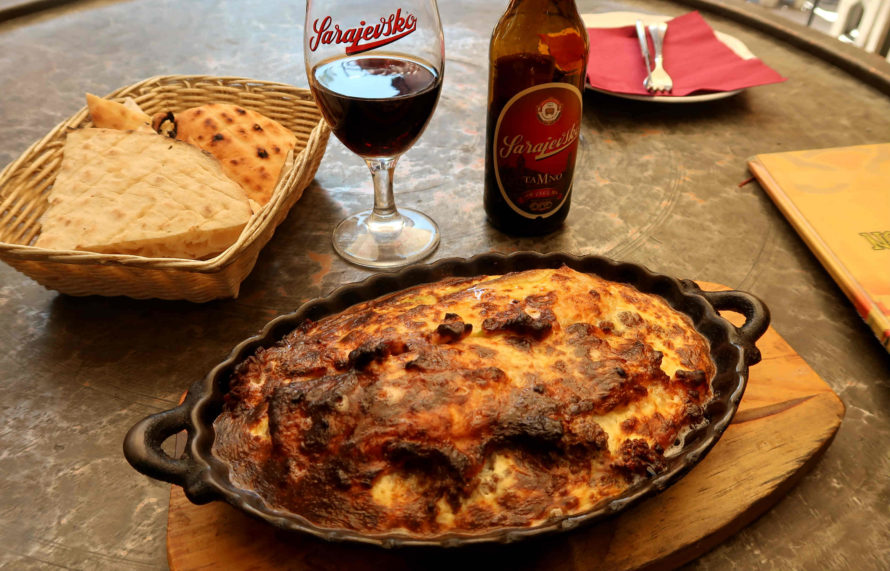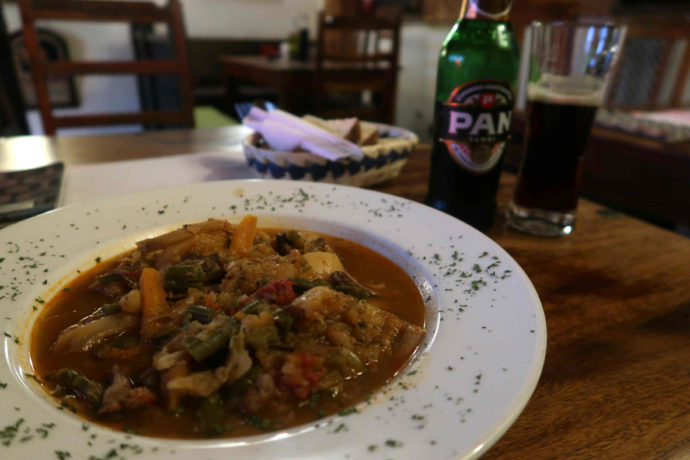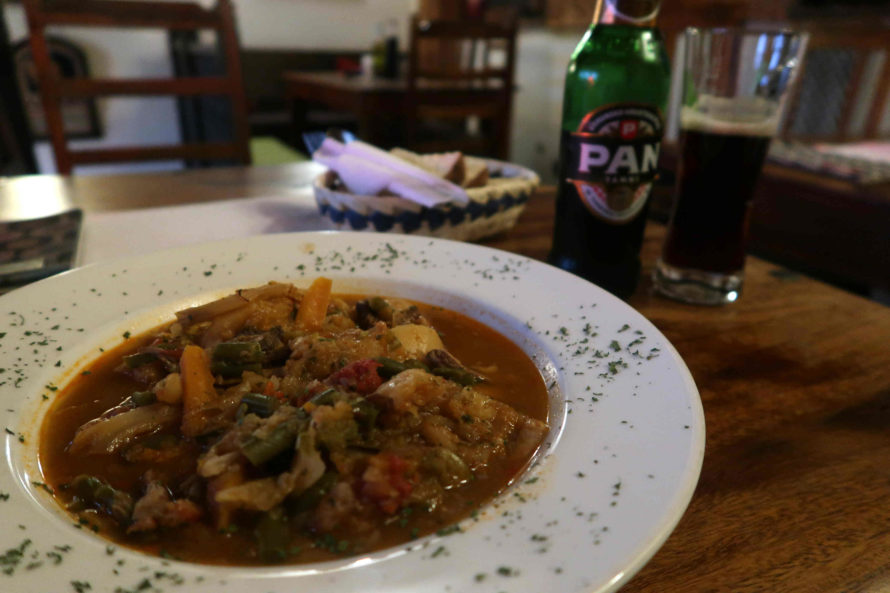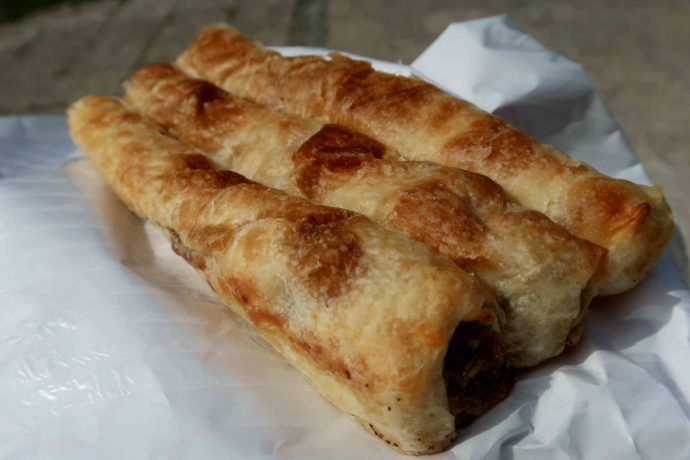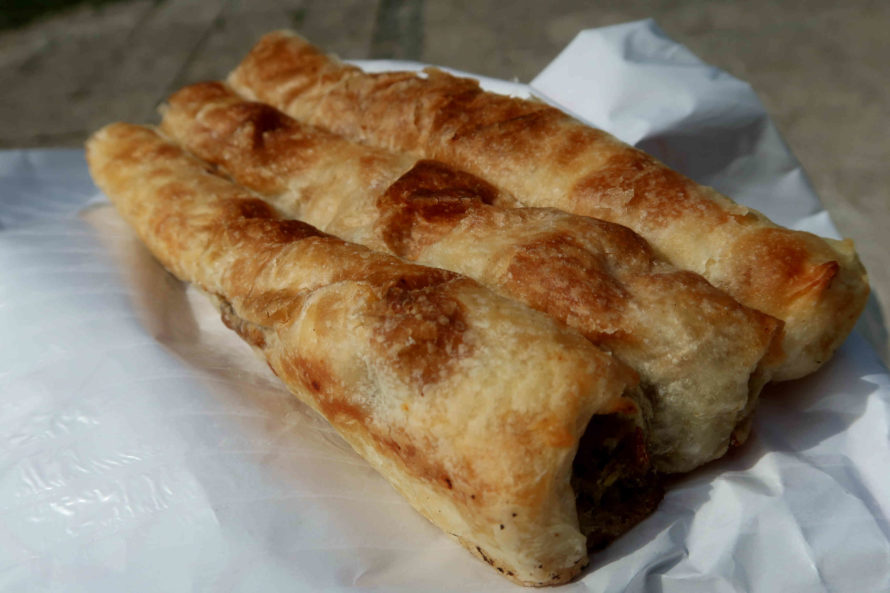 And if you're the kind of person who doesn't live without desert, you're going to be in heaven. There are dozens of types of sweets in Bosnian cuisine, almost always with a strong Turkish influence (and a whole lot of sugar). I tried the tufahija, a baked apple stuffed with walnuts and whipped cream, and baclava, one of Turkey's national dishes (a puff pastry made with a crushed walnut paste and honey, also available with hazelnut, pistachio and other additions – see photo below).
Last but not least, there are the drinks: don't leave Sarajevo without trying the Bosnian coffee, which I mentioned before, and if you drink alcohol it's worth having some of the local beers, such as Sarajevska, and rakija, a distilled drink made from plum and other fruits.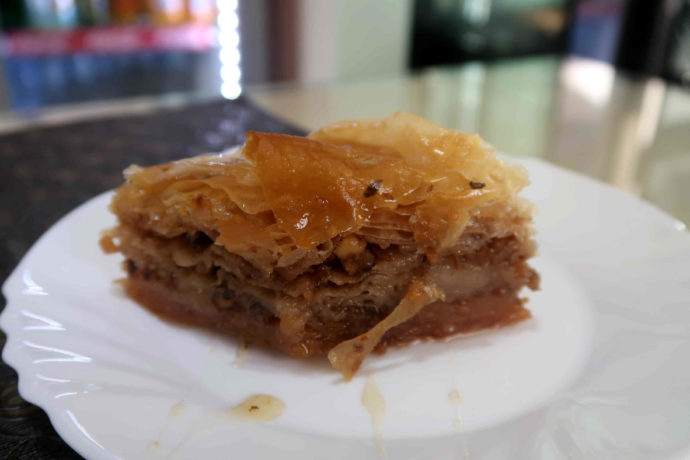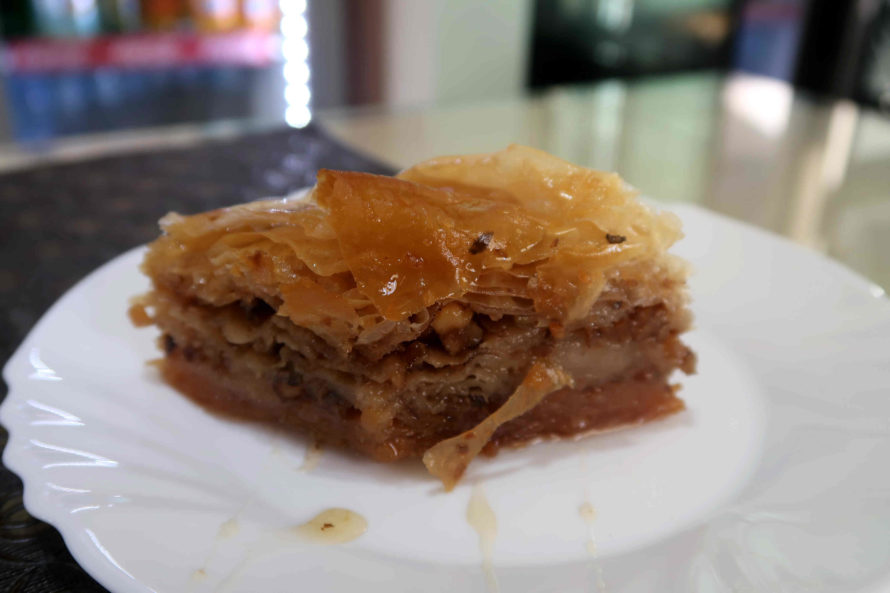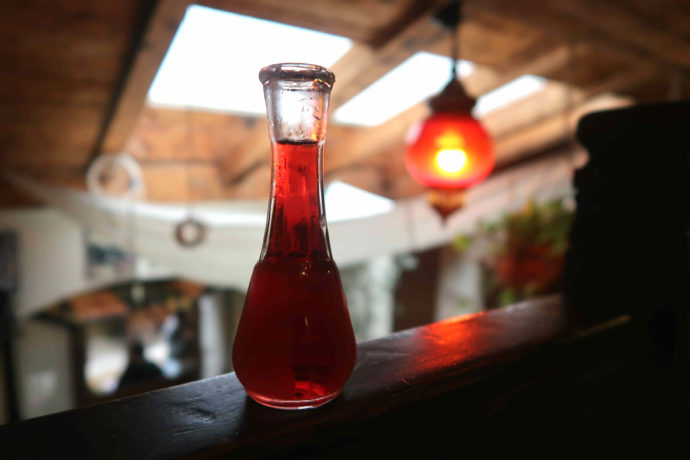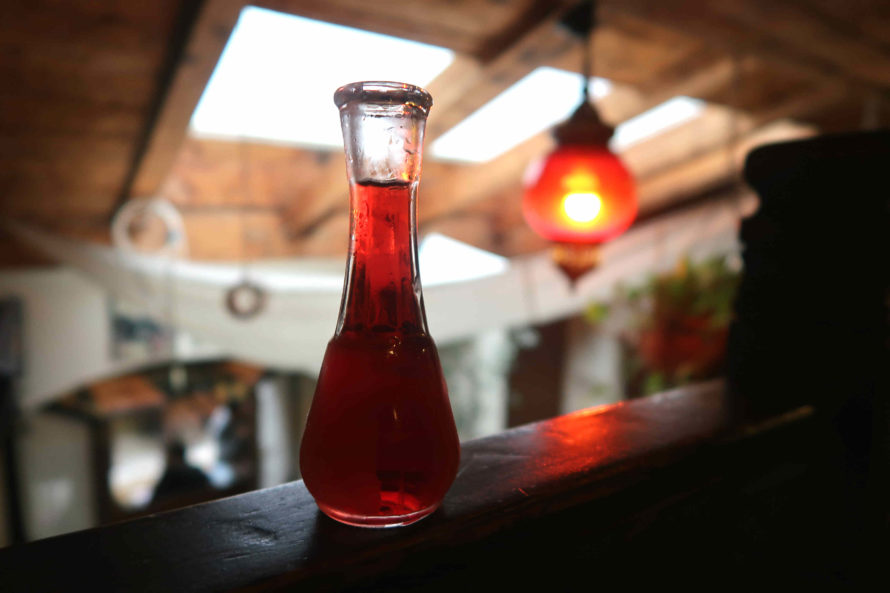 8. The low prices
Besides my belly, my pocket was also a fan of Bosnia. :P That's because the country is very cheap for tourists, especially when compared to other European destinations. I paid about 5 euros for the food dishes that are shown in the pictures in this post, in very nice restaurants in a tourist area. A Bosnian coffee costs about 1 euro and a beer is usually about 1,5 euros. It's also easy to find hotels in the city center with great reviews for about 25 euros per night, apartments with double rooms for 15 euros or beds in shared rooms in hostels for 12 euros or less.
9. The mixture of religions
Before visiting Bosnia, I didn't know that about 50% of its population is Muslim. In Sarajevo you'll find many mosques, see their minarets dawning on the landscape and hear the beautiful call to prayer echoing through the streets every day. But that's not all: the city is called "Jerusalem of Europe" because of its religious diversity.
Besides Muslims, it's also home to expressive communities of Orthodox and Catholics, and there have already been many Jews (today they are few because almost all were deported or killed in World War II). I found it very interesting to find, in a small area in the heart of the capital, a mosque, a synagogue, a catholic church and a Roman orthodox church coexisting in harmony.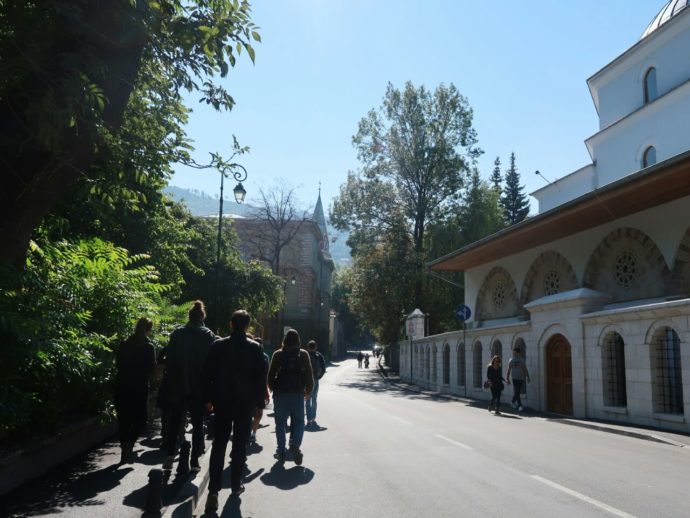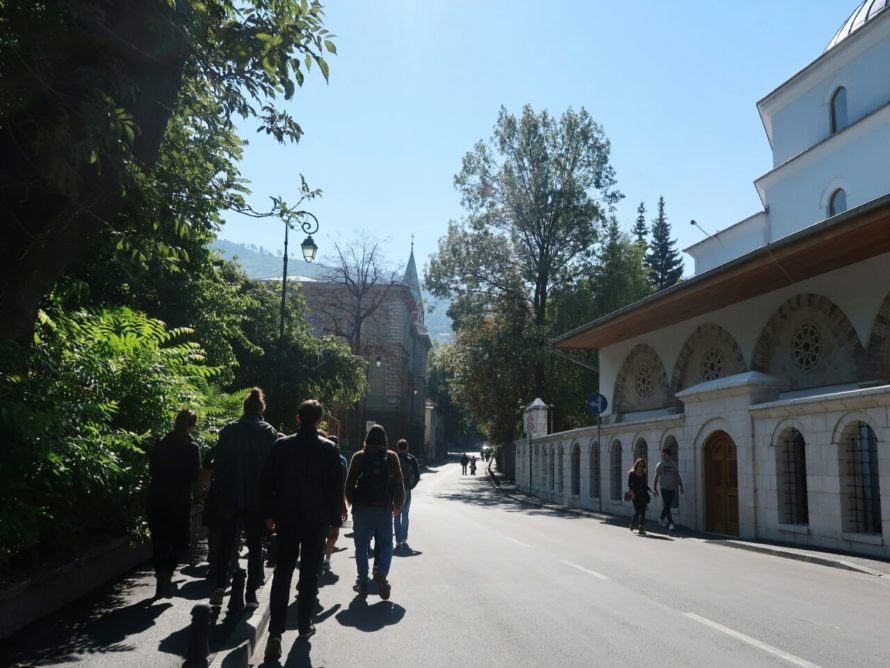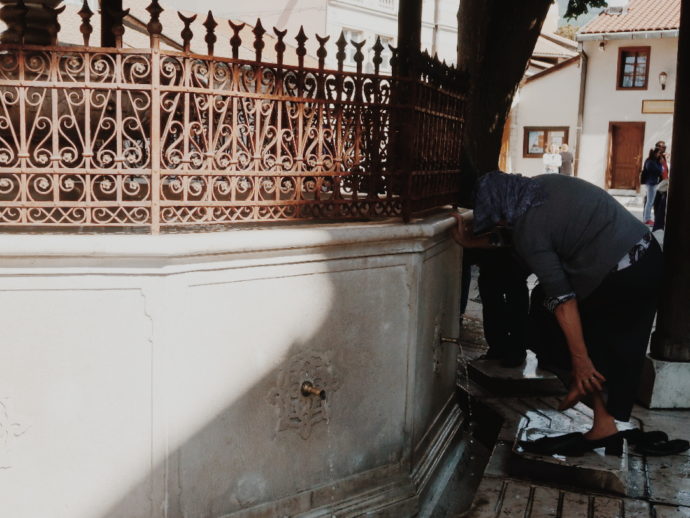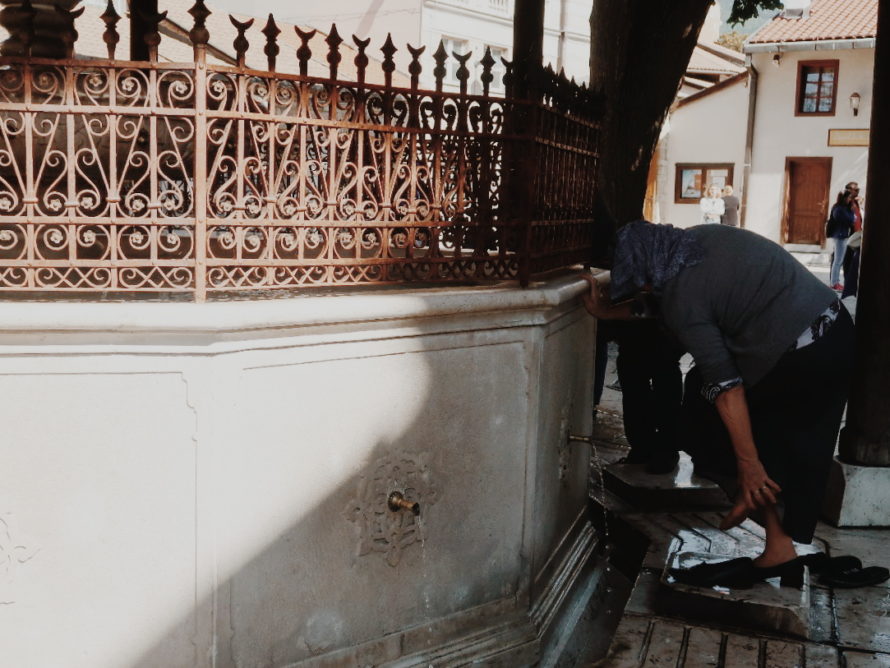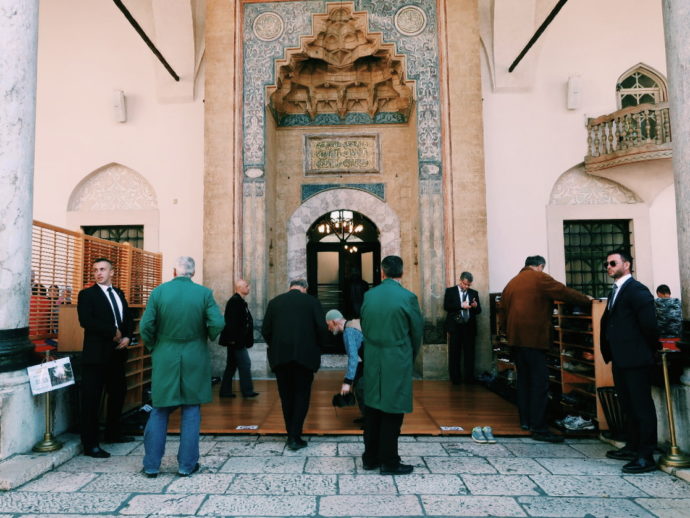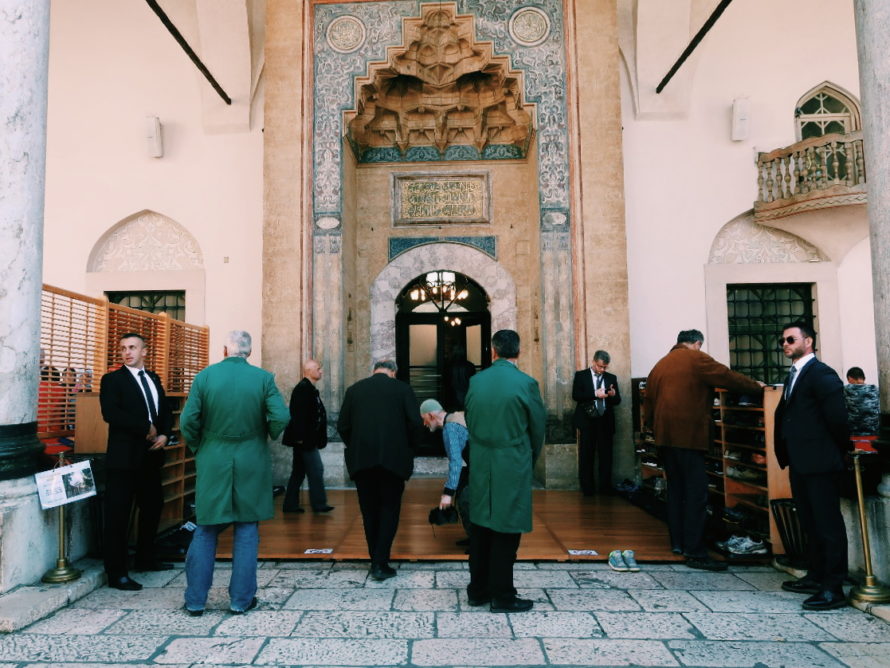 10. The story of overcoming
Unfortunately, it's not all a bed of roses in Bosnia at the moment. According to the tour guides I met in Sarajevo, the tension between the three ethnic groups involved in the war (Bosniacs, Serbs and Croats) still exists and makes the country's politics very complicated.
Bosnia is also the fifth poorest country in Europe and almost 20% of its GDP comes from the Bosnian citizens living abroad, which make up for 40% of the country's population, who send money to their families. Political disagreements and bureaucracy are obstacles to the country's development, but people are struggling as they can to move on and it's a privilege to witness this rebirth.
After reading Zlata's Diary and getting a detailed picture of how the city was mercilessly destroyed so recently, I could not help but being moved by walking the streets of Sarajevo and seeing it alive and joyful. I hope that the situation in Bosnia will improve very soon, but in the meantime it's very much worth a visit. In addition to getting to know an incredible country, you'll also help its economy.
Have you bought your tickets yet? :)